Simple Grilled Burgers
Total time: 30 minutes
   I used beef but these would be equally good with ground turkey or chicken.  If using poultry I would use white wine.  The crumbs, wine, etc. add a bit of moistness and a whole lot of flavor!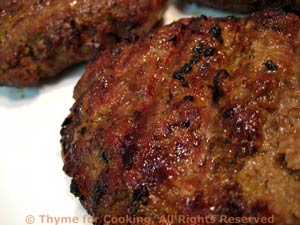 Ingredients:
12oz (360gr) ground beef ( mince)
2 tbs breadcrumbs
1 tbs red wine

  or stock

1 1/2 tbs ketchup
2 tsp Dijon-style mustard
1/2 tsp garlic powder
 Instructions:
Put all ingredients into a large bowl and mix well. 
Shape into 3 or 4 patties. 
Cook on barbecue grill over direct heat for 4 - 5 minutes per side. 
Or sauté in nonstick skillet for same amount of time. 
Remove and serve.