Salisbury Burgers
Total time: 30 minutes
    Similar to the oft-dreaded 'Salisbury Steak', only much, much better. Finished with a red wine and mushroom sauce.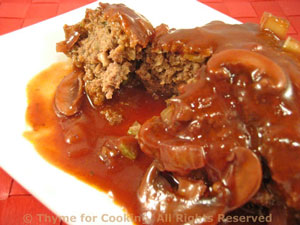 Ingredients:
12oz ground beef (360gr mince)
1 medium onion
2 ribs celery
5oz (150gr) mushrooms
2 tbs dry bread crumbs
1 tsp paprika, divided
1/2 tsp oregano
1/2 cup (4oz, 120ml) beef stock
1/2 cup (4oz, 120ml) red wine
2 tbs tomato paste
2 tsp olive oil
 Instructions:
Chop onion, celery. 
Finely chop 2 tbs each of the onion and celery. 
Trim mushrooms and thickly slice.
Finely chop enough of the sliced mushrooms to equal 4 tbs.  
Put the finely chopped 4 tbs mushrooms, 2 tbs onion, 2 tbs celery, bread crumbs, 1/2 tsp paprika, marjoram and beef in a large bowl and mix well. 
Form into 2 patties.
Heat oil in a large nonstick skillet over medium heat.
Add the burgers and sauté, 5 - 7 minutes per side, turning carefully. 
Remove, cover to keep warm.
Add remaining mushrooms, onions, celery, paprika to skillet and sauté about 5 minutes or until tender. 
Add beef stock, red wine, tomato paste and stir well.
Return patties to pan, reduce heat and simmer 5 minutes to blend flavors and heat patties. 
Serve.