Beef Patties with Caramelized Onions
Fried Potatoes
Braised Cauliflower with Bacon
Beef Patties with Caramelized Onions
Total time: 35 minutes
    We use 10oz and make 2 nice burgers.  If you want more meat just increase everything else (not the caramelized onions) proportionately.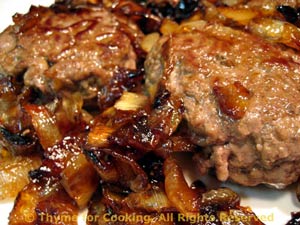 Ingredients:
10oz (300gr) ground beef
2 tbs bread crumbs
1 tbs Dijon-style mustard
1 tbs red wine   (or beef stock or ketchup
1/2 tsp garlic powder
1 tsp thyme
2 medium onions
2 tbs butter
1 tbs brown sugar
2 tsp Dijon-style mustard
 Instructions:
Mix bread crumbs, mustard, red wine, garlic powder and thyme. 
Add beef and mix thoroughly - hands are best.  Shape into 2 or 3 patties. 
Cut onions in half then into 1/4 inch (.65cm) think slices.  
Heat butter in large nonstick skillet over medium heat.  Add onions, cover and cook for 5 minutes. 
Uncover  onions and sauté until browned, stirring frequently, another 15 minutes. 
Add patties (moving onions out of the way but leave in pan) and sauté 5 - 7 minutes per side. 
Remove burgers and keep warm. 
Add sugar and mustard to onions and stir until well blended and sugar is melted. 
Spoon over burgers and serve.