Spinach en Croute with Tomato Sauce
Filet Mignon with Creamy Brown Sauce
Potatoes Savoyard
Sautéed Sunchokes
Filet Mignon or Tournedos with Creamy Brown Sauce
Total time: 20 minutes
    This is based on a main course from years ago, at one of my favorite restaurants in Minneapolis.  They didn't give me the recipe.... The steaks are sliced thinly, for tenderloin, and cooked quickly to stay medium-rare.  Serve on a bed of mashed potatoes.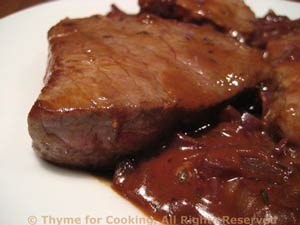 Ingredients:
4 slices beef tenderloin, each 1 inch thick (2.5 cm),  12oz (360gr) total weight
4 tsp olive oil
2 shallots
2 cloves garlic
1 tsp dried thyme
1/2 cup (4oz, 120ml) red wine
1/2 cup (4oz, 120ml) beef stock
1 tbs tomato paste
1 tbs Dijon-style mustard
1 tsp cornstarch
1/4 cup (2oz, 60ml) milk or cream
 Instructions:
The sauce:

  Thinly slice shallots and mince garlic. 
Heat 2 tsp oil in a nonstick skillet over medium heat. Add shallots, garlic and thyme and sauté 1 - 2 minutes. 
Add red wine and simmer until reduced by half. 
Add beef stock and simmer until reduced by half. 
Add tomato paste, mustard and mix well. 
Dissolve cornstarch in milk or cream and add to sauce, stirring until thick.
Spoon into a bowl and set aside.  
Rinse out the skillet for the steaks.

The steaks:

Heat remaining 2 tsp oil in the skillet over medium-high heat.
Add steaks and sauté 1 minute per side. 
Spoon the sauce over the steaks, cover and simmer 1 - 3 minutes longer, depending on how you like them done.

To serve: 

Put 2 steaks on each plate and spoon a little sauce over top. 
Put the rest of the sauce in a sauce boat and serve on the side.