Beef Braised in Guinness
Total time: 80 minutes
  A classic for St. Patrick's Day but a great cold-weather dish anytime. Slow braising makes the beef meltingly tender and the beer adds a robust flavor.  Serve with 'Jacket Potatoes': potatoes baked in their skin and a staple in Ireland.  This makes enough for 4 or 2 meals for 2.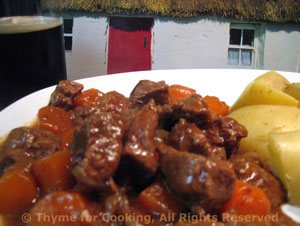 Ingredients:
24oz (720gr) beef suitable for stewing or braising
1 large or 2 medium onions
2 cloves garlic
5 - 6 medium carrots
3 bay (laurel) leaves
1 tsp dried thyme
2 cups (16oz, 480ml) Guinness
1 cup (8oz, 240ml) beef stock
1 tbs oil
4 tbs cornstarch (maizena, corn flour)
1 tbs paprika
 Instructions:
Cut beef into 1" (2.5 cm) cubes. 
Cut onion into quarters, then slice thinly.
Mince or press garlic. 
Cut carrots in half the long way, then into 1" (2.5cm) pieces. 
Combine paprika and cornstarch in a plastic food bag. 
Add beef and toss to coat evenly. 
In a heavy saucepan or Dutch oven, large enough to hold everything easily, heat oil over medium-high heat.  Add onion and sauté until translucent, about 5 minutes. 
Add beef and brown on all sides. 
Add garlic and sauté 1 minute more. 
Add remaining ingredients, bring to a boil, reduce heat to low, cover and simmer at least an hour.   If it starts to dry out, add more Guinness or beef stock. 
If you would like the sauce thicker, dissolve 1 tbs cornstarch in 2 tbs water and stir in as much as you need - a little at a time, cooking and checking, or it will get too thick.
When ready to eat, remove bay leaves and serve.