Main Course Menu Plan: Week 2 
Fall II
Day 1:

Salmon with Lemon and Herbs,

Lightly Smoked

Total time: 15 minutes
    This is a cross between smoking and grilling.  The wood chips are optional, but we like the added flavor, especially for salmon.  As always, with fish, cook until it just flakes easily, being careful not to let it on too long.  You could also roast the salmon, 400F (200C) oven.  If you do, add 1/2 tsp soy sauce to the lemon/herb mixture.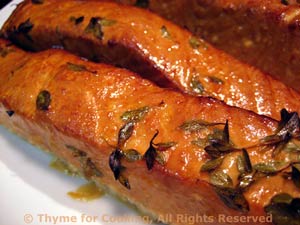 Ingredients:
2 salmon fillets, 6oz (180gr) each 
2 tbs lemon juice
2 tbs olive oil
1 tbs fresh lemon thyme or regular thyme leaves  

substitute 1 tsp dried

1 tbs snipped fresh parsley    

substitute 1 tsp dried

1 tsp kosher, sea or rock salt
wood chips for smoking - apple is nice See Barbecue Grills for more info
 Instructions:
In all cases, fish should flake easily but not be dry.  Slightly pink in the center is perfect.  Remove from heat and serve, sliding it off the skin if needed.
Day 2:

Barbecued Pork Loin

Total time: 60 minutes
    The Grill Expert came up with the idea of having a very thin basting sauce to keep the pork moist... It worked. The pork is enough for 2 meals.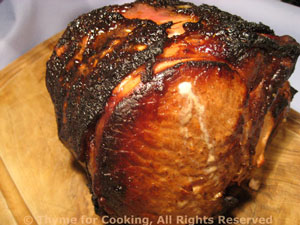 Ingredients:
1 boneless pork loin roast, 32oz (960gr)
2 tsp chili powder
1 tsp garlic powder
Basting Sauce:
3/4 cup coffee
2 tbs soy sauce
2 tbs red wine vinegar
Barbecue Sauce:
1/2 cup ketchup
2 tbs balsamic vinegar
2 tbs molasses
2 tbs soy sauce
3 tbs oil
2 tsp Dijon-Style mustard
1 tsp garlic powder
1 tsp dried oregano
 Instructions:
Mix chili powder and garlic. 
Rub onto pork loin. 
Cook pork loin on barbecue grill, over indirect heat with the cover closed.  Pork is done when it reaches an internal temperature of 145F (62C)  Use an instant read or a remote meat thermometer for best results. If you don't have either, take the roast off and slice into it after 40 - 50 minutes (depending on weight and shape) to test.  It should be almost cooked through with a bit of pale pink in the center.
Mix coffee, soy sauce and red wine vinegar. 
Spoon sauce over pork every 8 - 10 minutes starting immediately.  
In a small bowl whisk together all ingredients for

Barbecue Sauce

. 
Baste pork with 3 tbs barbecue sauce after 40 minutes. Serve the rest on the side.
When pork is done, remove, cover with foil and let rest for 5 minutes. 
Slice and serve, barbecue sauce on the side. 
Could also be roasted in a 400F (200C) oven for about the same amount of time.
Day 3:

 Chard, Pork, Goat Cheese and Mushroom Quiche

Total time: 60 minutes
   The chard is quickly sautéed, mainly to help it fit into the quiche dish.  You can use sautéed chicken breasts, leftover pork; chevre or Brie.  This is a very flexible recipe.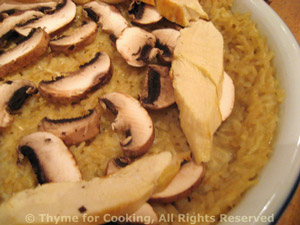 Ingredients:
2/3 cup quick-cooking brown rice    substitute Basmati
1 1/3 cup (11oz, 330ml) chicken stock
4 eggs
1/4 cup (1oz, 30gr) shredded cheese, any flavor   it helps to bind the crust
8oz (240gr) sliced pork
6oz (180gr) chard
3oz (120gr) mushrooms
4oz (120gr) goat cheese    or other strong, soft cheese
1 tsp oregano
2 tsp olive oil, plus a bit for the dish
1 cup (8oz, 240ml) milk
Instructions: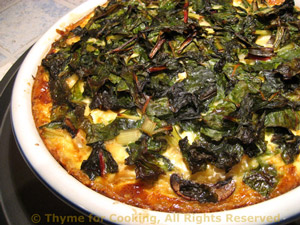 The Crust: 
Cook rice in stock according to package instructions. 
When done, spread out on a plate for 5 minutes to allow to cool a bit.
Lightly oil a 10" (25 cm) pie or quiche plate.
Lightly whisk 1 egg.
Add 1/4 cup shredded cheese and the cooked rice. Mix well. 
Pat into the quiche plate, working it up the sides as best you can. 
Bake in 400F (200C) oven for 8 minutes. Remove.
The Filling:  
Wash the chard and trim any bad bits. 
Stack the leaves together and fold over, the long way. Slice into thin strips, using both leaves and stems.
Heat oil in a large skillet.  Add the chard to the skillet and sauté until wilted and tender, about 7 minutes. 
Remove from heat.
Clean and slice mushrooms.
Slice cheese 1/4" thick. 
Slice pork. 
Whisk eggs and milk together.

To assemble:

Lay the mushrooms on the crust. 
Top with the sliced pork, the cheese and the chard. 
Sprinkle with oregano.  
Pour the egg mixture over all and bake for 30 - 40 minutes, until center has set. 
Remove and let rest 5 minutes.
 Slice and serve.
Note: When baking quiches or tarts, I put the dish on a sturdy baking tray, before pouring in the egg mixture, for easier handling. The dish can get very full.
Day 4:

 Chicken Breasts with Sage, Rosemary and Lemon

Total time: 30 minutes
   Sage and rosemary work well together and, along with the lemon, make these simple chicken breasts a tender, succulent, flavorful dinner.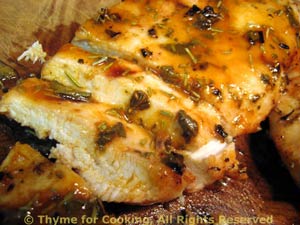 Ingredients: 
2 chicken breasts, boneless, skinless
3 tbs lemon juice
2 tbs olive oil
1 tbs ketchup
1 tbs fresh sage, chopped  

substitute 1 tsp dried

1 tbs fresh rosemary, chopped  

substitute 1 tsp dried
 Instructions:
In a small bowl mix lemon juice, oil, ketchup and herbs. 
Place chicken breasts in a dish with sides and pour marinade over.  Let marinate 10 - 20 minutes or up to 4 hours in the refrigerator. 
Remove from marinade and cook on barbecue grill for 7 - 10 minutes per side, or until done,  basting with marinade. 
Could also be sautéed in a nonstick skillet for same amount of time. Serve.
Day 5:

 Stuffed Peppers,

Americas Style

Total time: 40 minutes
    Quinoa makes it so much more interesting and adds a meatier texture to the finished peppers than the, more traditional, rice!  Use ground turkey if you prefer.... Something else I can't get.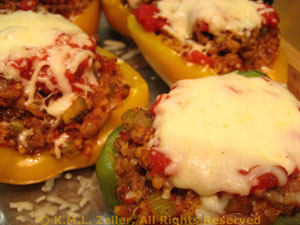 Ingredients:
 Instructions:
Cook quinoa in stock until done. 
Put a large pot of water on high heat and bring to a boil. 
Cut peppers in half the long way (try to find the best flat sides before cutting so that they will lie nicely) and remove stem end and seeds. 
When water is boiling drop peppers in and simmer for 5 minutes. 
Remove (use tongs) and put into a baking dish that will just hold them (if possible). 
Finely chop onion, celery; mince garlic. 
Clean and chop mushrooms. 
Heat oil in nonstick skillet over medium-high heat.  Sauté chili powder and paprika for 1 minute. 
Add celery and onion, sauté until tender, 5 minutes. 
Add garlic and mushrooms, sauté 3 minutes longer. 
Add beef and sauté until cooked through breaking it up as it cooks. 
Add stock, tomato paste, oregano, 1/4 cup tomato sauce and hot pepper sauce if using. 
Dissolve cornstarch in water. 
When stock mixture is simmering, stir cornstarch in to thicken. 
Remove from heat, add quinoa and stir well to combine. 
Spoon mixture into the pepper halves. 
Cover with foil and bake for 15 minutes at 400F (200C). 
Remove foil, spoon the remaining tomato sauce on top of each pepper and sprinkle with shredded cheese. 
Bake, uncovered until cheese melts. 
Serve. 
Note: Keep any extra stuffing warm and serve on the side.
Day 6:

 Egg Fu Yung

(Chinese Pancakes with Cabbage & Brown Rice)

Total time: 35 minutes
    If you cook the rice with water or vegetable stock, you have a lovely vegetarian main course.  The rice adds 'substance' to the egg although you really can't tell that it's there.  The cabbage retains just enough crunch.  They go together quickly if the rice is cooked in advance.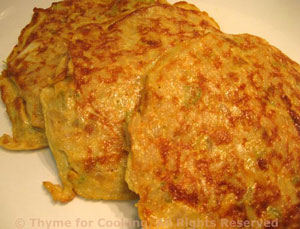 Ingredients:
1/2 cup (3.3oz, 95gr) quick-cooking brown rice   

cooked, yielding 1 1/2 cups cooked rice

1 cup (8oz, 240ml) chicken stock
2 cups finely shredded cabbage
1 medium onion
1 rib celery  

optional

4oz (120gr) water chestnuts  

optional

2 tbs soy sauce
6 eggs
2 tbs olive oil

Sauce:

1 1/2 cup (12oz, 360ml) chicken broth
1 1/2 tbs soy sauce
1 tbs molasses

(brown sugar could be substituted ...not as good, but...)

2 tbs cornstarch (maizena) dissolved in 2 tbs water
 Instructions:
Cook brown rice in stock or water according to package instructions.
Shred cabbage by cutting slice off of head, lay the slice cut side down and cut into 4ths, then, cutting across, slice1/8 inch thick.  Do not use the core of the cabbage - you'll recognize it when you see it. 
Finely chop onion, celery if using and water chestnuts, if using. 
In large nonstick skillet heat 2 tsp olive oil and sauté cabbage, onion, celery and water chestnuts until cabbage is wilted and onions tender, 7 - 10 minutes. 
Put vegetables in a large bowl. 
Add rice to vegetables along with soy sauce and mix well. 
If rice was just cooked, let it cool a few minutes while you make the sauce - see below. 
In another bowl whisk 6 eggs. 
Add the eggs to the vegetable/rice mixture and stir well. 
In same skillet heat remaining 2 tsp olive oil over medium-high heat. 
When pan is hot drop egg mixture by 1/3 cupfuls into pan to form patties. 
Fry until nicely browned, 5 – 7 minutes. 
Gently turn and brown the other side.   When done, remove to a platter and keep warm in 200F (110C) oven while you make the rest. 
Serve with the sauce on the side.
Sauce:
Heat chicken broth, soy sauce and molasses in small pan over medium-high heat, stirring well to mix in molasses.
When hot, stir in cornstarch to thicken. 
Keep warm while making pancakes.