Main Course Menu Plan: Week 13 
Fall II
Day 1:

Salmon Patties with Caper Tarter Sauce

Total time: 20 minutes
   Canned salmon and tuna have long been pantry staples. especially in areas that run the risk of being snowbound in the winter months.  I normally remove the skin from the salmon, but not the bones.  They're very soft from being cooked, and are an excellent source of calcium.  Mash them a bit with a fork if needed.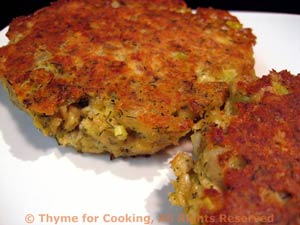 Ingredients:
8oz (240gr) salmon, net weight 
1 tbs Dijon-style mustard
1 tbs capers
1 tbs dried chives
3 tbs bread crumbs
2 eggs
1 tbs olive oil
Tarragon Caper Tarter Sauce:
1/2 cup (4oz, 120gr) mayonnaise
1 tbs lemon juice
3 - 4 tbs chopped dill pickle (2 medium - index finger size)

or more capers

1 tbs chopped capers
2 tsp dried chives
2 tsp dried tarragon
1 clove garlic, minced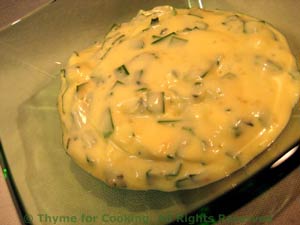 Instructions:
Drain the salmon and put into a large bowl, breaking it up with a fork. 
Roughly chop capers.
Whisk eggs in a small bowl. 
Add mustard, capers, chives and breadcrumbs, mix well. 
Add egg mixture to salmon and gently mix. 
Divide into 4ths.
Heat oil in medium nonstick skillet over medium heat. Add salmon, forming into patties. 
Fry, 7 - 9 minutes, until starting to brown. 
Carefully turn with a spatula and sauté another 5 - 6 minutes.
 Remove and serve, tarter sauce on the side.
Tarragon Caper Tarter Sauce:
Mix all ingredients. 

Best if made at least 15 minutes early to allow flavors to blend.

 

The dried herbs will absorb a bit of the lemon juice.
Day 2:

Pizza Steaks

Total time: 25 minutes
      A thick sauce of tomatoes and oregano lend the 'pizza' taste to these steaks.  You can simmer the steaks in the sauce for more flavor, if you like, be we prefer our steaks more on the medium rare side so we just spooned the sauce on top. 
 Ingredients:
 Instructions:
Chop onion; mince garlic.
Heat 1 tbs oil in small skillet over medium heat.  Add onion, cumin, paprika and sauté 5 minutes. 
Add garlic and sauté 5 minutes longer. 
Drain tomatoes, reserving juice for another use. 
Roughly chop tomatoes and add to skillet along with wine and oregano. 
Reduce heat and simmer for 10 minutes, until reduced and thickened. 
Meanwhile heat remaining tbs of oil in large nonstick skillet or grill pan over medium-high heat. 
Add steaks and fry quickly, 1 - 2 minutes per side, depending on thickness and desired degree of doneness. 
When done, put on small platter.  Spoon sauce over and serve.
Note:  If using a tougher cut, brown first, then add to sauce and simmer 15 - 45 minutes.
Day 3:

 Turkey Wild Rice Soup

Total time: 3 hours
      The key to a rich stock is to let it simmer over very low heat for a very long time to let all of the goodness eke out of the bones.  It's what gives a good stock a luscious 'mouth-feel'.  Use a turkey carcass from a roasted bird or buy wings, necks, and/or legs for the stock.  I used a leg and a thigh - and had more meat than I wanted for the soup - turkey salad sandwiches.
Stock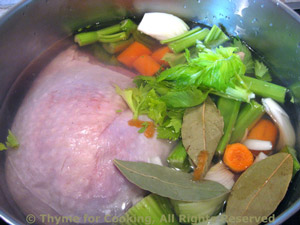 Ingredients:
The stock:
turkey carcass and some leftover turkey meat or 2 - 3 turkey wings or 1 turkey leg and thigh 
the tops from a bunch of celery or 2 ribs celery
2 carrots
1 onion
bouquet garni
3 bay leaves
8 - 10 cups water
salt or 1 chicken base/stock cubes
 Instructions:
Cut the vegetables into large chunks.  If you are using celery tops, use them all, including the leaves. 
Put turkey, vegetables, herbs and water in soup pot or Dutch oven.  If you are using a turkey carcass you may need to break it up to get it in and covered with water - and you may need more water than 8 cups.  You can reduce it later.
Cover, bring to a boil, reduce heat and simmer over very low heat for several hours, the longer the better. There should be bubbles breaking the surface occasionally, not steadily.  
When done, strain stock into another pot or large bowl, discarding vegetables, bones and skin.  Pick the turkey meat off the bones and reserve for soup. 
If time allows, chill stock and remove fat. Refrigerate turkey if not making soup immediately.
  Soup: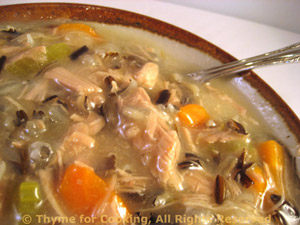 Ingredients:
8 cups turkey stock
2 - 3 cups turkey, cut into small pieces
3/4 cups wild rice  
4 carrots
3 ribs celery
1 large onion
2 tbs cornstarch (maizena, corn flour)
2 tbs dry sherry
3/4 cup milk
 Instructions:
Bring stock to a boil over medium heat. 
Lightly rinse the wild rice and add to stock. 
Cut carrots in half, the long way then thinly slice. 1/8" (3 cm).  Add to stock. 
Thinly slice celery, add to stock. 
Chop onion, add to stock. 
Cover, reduce heat and simmer for 45 minutes. 
Taste the soup, add salt, pepper, or a chicken stock cube/paste if needed.
Cut the turkey into small pieces and add to soup. 
Dissolve cornstarch in sherry and a bit of milk. 
Increase heat under soup to a hard simmer.  Stir in cornstarch mixture, stirring until it clears and thickens the soup slightly. 
Stir in the milk, heat through and serve.
Note:  The cornstarch is meant to thicken it very slightly, you may not really notice it when it's hot, but it makes it more unctuous. 
Day 4:

 Honey Mustard Pork Chops

Total time: 35 minutes
    Pork chops get fork-tender in no time when gently braised.   I prefer thinner, boneless chops for this spicy/sweet honey mustard sauce. They stay tender and moist, and the reduced sauce makes this a lovely main course.
 Ingredients:
2 - 4 boneless pork chops, 12oz (360gr) total weight
1/2 onion
1 tbs olive oil
1/2 cup (4oz, 120ml) chicken broth
1/2 cup (4oz, 120ml) white wine
1 tbs whole grain mustard
1 tbs honey
1 tbs sherry vinegar or cider vinegar
 Instructions:
Chop onion.
Heat oil in nonstick skillet.  Add onions and sauté until tender.
Move onions to the side and add pork chops.  Brown on both sides, about 10 minutes total. 
Add remaining ingredients, cover, reduce heat and simmer 15 minutes. 
Increase heat to medium-high.  Uncover, remove pork and keep warm. 
Stir sauce well and boil until it reduces by half, about 5 minutes. 
Spoon over pork and serve.
Day 5:

 Spaghetti Pie

Total time: 50 minutes
   This has the flavors of lasagne, but quicker to put together.  You could make it in a spring-form pan and unmold it for a fancier presentation.    
 Ingredients:
 Instructions:
Cook pasta according to package directions. 
While pasta cooks: 
Thaw spinach and squeeze dry. 
Chop onion and mince garlic. 
Heat oil in skillet over medium heat.  Add onion and sauté until tender. 
Add garlic and beef and sauté  until meat is done, breaking it up as it browns. 
Stir in herbs, vinegar and tomato sauce.  Cover and simmer until needed.
In large bowl lightly whisk the egg.  Add 2 tbs of the ricotta and whisk. 
To assemble: 
When pasta is done, drain well. 
Toss to cool a bit (do not rinse) then add to the egg mixture. 
Mix well and put into an oiled, glass baking dish (mine is 9 inches square).  Pat into place. 
Fluff the spinach a bit with your fingers and sprinkle it over the pasta. 
Drop the ricotta by small spoonfuls evenly over the top and spread out a bit. 
Spread the meat sauce evenly over the ricotta. 
Sprinkle with Parmesan.  
Bake, covered with foil (or lid) at 400 F (200C) for 20 minutes. 
Remove foil (or lid) and bake 5 minutes longer.  Serve.
Day 6:

 Chicken with Whole Grain Mustard Sauce

Total time: 25 minutes
  Whole grain mustard and white wine, slightly reduced, make a lovely, light sauce for the chicken, bursting with flavor but low in calories.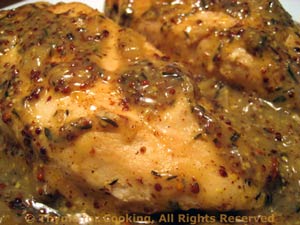 Ingredients:
2 chicken breasts, boneless, skinless
1/2 medium onion
2 tsp olive oil
1 tsp thyme
1/2 cup (4oz, 120ml) white wine
2 tbs whole grain mustard
 Instructions:
Roughly chop the onion.
Sauté onion in oil in nonstick skillet over medium-high heat. 
When onion starts to brown, move it to the sides of the pan and sauté chicken breasts until lightly browned.
Add thyme, mustard and wine.  Stir to combine.
Cover, reduce heat and simmer until chicken is done, about 15 minutes.
Remove chicken to a small platter, cover to keep warm.
Increase heat under skillet and reduce sauce slightly.
Pour sauce over chicken and serve