Main Course Menu Plan: Week 11 
Fall II
Day 1:

Tilapia with Lemon Butter

Total time: 15 minutes
    Any nice filet of white fish would be good: walleye, sole, catfish, cod, snapper, for this simple dish. The Lemon Butter needs to be made at the last minute - but it's quick.
 Ingredients:
2 nice fish fillets: tilapia, snapper, flounder, walleye,  

4 if they are small 

12oz total weight  (360gr)
1 tbs butter
1 tbs lemon juice
1/2 tsp Dijon-style mustard
olive oil - 1/2 tsp
Lemon Butter:
1 tbs lemon juice
2 tbs white wine
2 tbs cold butter
 Instructions:
Put fish fillets on a lightly oiled baking sheet. 
Melt 1 tbs butter.  Stir in 1 tbs lemon juice and mustard. 
Brush on fish. 
Bake, 375F (185C) for 12 - 15 minutes, depending on thickness, until fish is done.  It should be opaque and flake easily with a fork.
Lemon Butter:
Heat lemon juice and white wine in a small saucepan over low heat or in glass cup in microwave. 
Remove the from heat and stir in the 2 tbs butter, 1 tbs at a time.  The butter should soften and the sauce get creamy.  The butter is not supposed to melt and separate. 

But if it does, the flavor will be just as good.... .

  

Spoon Lemon Butter over fish and serve.

.

  
Day 2:

Braised Veal with Garlic  

Total time: 60 minutes
     Mediterranean cuisine uses a lot of garlic.  The Spanish like it raw, rubbed on bread.  The French like it whole, cooked to a beautiful, smooth creamy purée, which is what we are doing here.  I peeled the garlic cloves... but it's really not necessary.  Just pinch the cooked garlic out of the skin to eat.. As is so often the case, this will be enough for 4 persons or 2 meals.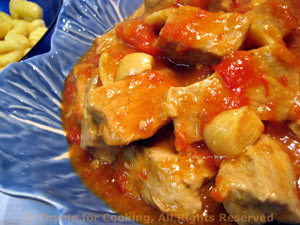 Ingredients:
24oz (720gr) veal, suitable for braising - stew meat, shoulder
2 tbs olive oil
2 tbs dried bread crumbs
1 1/2 cups (12oz, 360ml) dry white wine
1 head of garlic, 12 - 16 cloves
3 bay leaves
15oz (450gr) whole tomatoes
1 1/2 tbs cornstarch (maizena) dissolved in 2 tbs water
8oz (240gr) fresh gnocchi
 Instructions:
Cut veal into 1 1/2 inch (3.75cm) cubes. 
Separate garlic head, peeling cloves if you like. 
In a deep, heavy pan heat the oil over medium-high heat.   Add half of the veal and brown on all sides. 
Remove and brown the other half.  Remove. 
Add the bread crumbs, wine and stir well, scraping up the browned bits.
Chop tomatoes, reserving all juices. 
Return veal to pan, add garlic cloves, tomatoes with juices and bay leaves.  Bring to a boil.  
Cover and reduce heat to low.  Simmer for 45 minutes. 
Cook gnocchi according to package directions.  Drain.
Turn the heat up under veal and uncover.  Give the cornstarch mixture a stir and add to the pan a little at a time until thickened to your liking. 
Spoon meat, garlic and sauce into a bowl and serve with gnocchi.
Day 3:

 Chevre, Pimiento and Prosciutto Lasagna

Total time: 45 minutes
    This goes together quickly with no-cook lasagne noodles.  The Prosciutto (or any dry-cured ham) adds a robust flavor and goes well with the goat cheese but could easily be left out for a vegetarian version.  The goat cheese I used was aged, with a thin, white edible rind.  The creamy kind would work here as well. 
 Ingredients:
 Instructions:
The tomato sauce:
Finely chop onion and garlic.
Heat the oil in a medium saucepan over medium heat.  Add onions and garlic and sauté for 5 minutes or until tender. 
Add crushed tomatoes, tomato sauce, herbs and red wine. 
Cover, reduce heat and let simmer until needed.
The béchamel sauce:
In another medium saucepan heat the butter over low heat. 
Add flour and stir with a whisk for 1 minute. 
Add a little (1/4 cup) of the milk and whisk to combine. 
Turn heat up to medium and keep adding milk, a little at a time and whisking.  You should have added all of the milk in a minute or 2. 
When all of the milk is in, bring to a boil (should almost be there), whisking. 
Remove from heat, allow to cool for 2 - 3 minutes then stir in half of the cheese (1/4 cup). 
The rest:
Cut Prosciutto into strips. 
Drain peppers and cut in wide strips. 
Slice the goat cheese thinly, 1/8" (.3cm).
To assemble:
In an square, 10 X 10 (25 X 25cm) or oblong baking dish, 9 X 11, (22 X 27cm) or so... make the following layers:
1/2 tomato sauce
3 - 4 lasagne noodles,  you'll have to break one up to get good coverage
1/2 béchamel sauce
all the roasted peppers (pimientos)
3 - 4 lasagne noodles
1/2 béchamel sauce
goat cheese
Prosciutto
3 - 4 lasagne noodles
1/2 tomato sauce
1/4 cup shredded cheese
Cover and bake 400F (200C) for 20 minutes, or until noodles are done.  Test in center with a sharp knife. 
Uncover and bake 5 minutes longer to brown the cheese. 
Remove and let rest for 5 minutes.  Cut into squares (or oblongs) and serve.
Day 4:

 Braised Veal with Garlic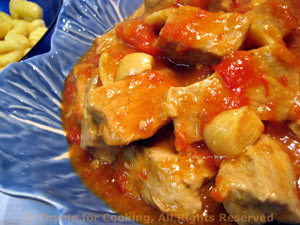 Total time: 10 minutes

 Ingredients:
 Instructions:
Gently reheat in a saucepan or microwave until hot.
Day 5:

 Stir-fried Sesame Chicken

Total time: 30 minutes
    Peanut butter adds a creaminess to stir fries, as well as a subtle, almost sesame flavor.  The finish of toasted sesame seeds carries the flavor through.  You can buy toasted sesame seeds or toast them yourself in minutes.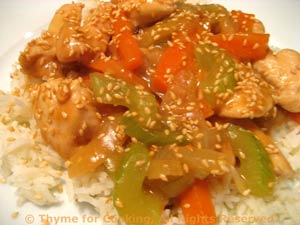 Ingredients:
2 chicken breasts
2 ribs celery
2 carrots
1 onion
2 cloves garlic
2 tsp minced, fresh ginger
2 tsp olive oil
1 tsp sesame oil
1 tbs soy sauce
1 cup (8oz, 240ml) chicken stock
1 tbs cornstarch (corn flour, maizena)
2 tbs sherry
2 tbs peanut butter
2 tbs sesame seeds, toasted
Basmati rice:
1/2 cup (3.3oz, 95gr) Basmati rice
1 tsp butter
1 cup (8oz, 240ml) chicken stock
 Instructions:
Toast sesame seeds in a dry, nonstick skillet, over medium-high heat, 3 - 6 minutes.
Start flipping them or shaking the skillet after 1 - 2 minutes and remove as soon as light brown.  Set aside. 
Slice celery at an angle. 
Cut carrots into matchsticks. 
Cut onion into quarters, lengthwise, then slice thinly. 
Mince garlic and ginger.
Cut chicken into bite-size pieces.
Heat oils in large skillet. Add onion and sauté 3 minutes. 
Add garlic, ginger, celery, carrot and sauté 5 minutes longer. 
Remove to a plate. 
Add chicken to skillet and sauté 5 minutes. 
Return vegetables to skillet. 
Add soy sauce, stock, cover and simmer, 5 minutes.
Basmati Rice:
Melt butter in small saucepan over medium heat. 
Add rice and sauté, stirring for 2 - 3 minutes.  Add stock, cover and simmer for 15 minutes, or until done.
When done fluff with fork..
To finish:
Dissolve cornstarch in sherry.
Increase heat under skillet.  Add peanut butter and stir until dissolved. 
Add cornstarch and stir until thickened.  
Add half of the toasted sesame seeds, stir. 
Spoon over rice, sprinkle with the remaining sesame seeds and serve.
Day 6:

 Pork Tenderloin with Potatoes, Apples and Carrots

Total time: 45 minutes
   Pork and apples naturally compliment each other: the sweet-tart flavor of the apple brings out the sweetness of the pork. With roasted potatoes and carrots this is a simple meal needing little attention.  Remember, slightly pink is fine for pork - and keeps it juicier.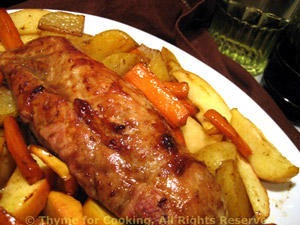 Ingredients:
1 pork tenderloin, 12oz (360gr)
2 medium potatoes
2 - 3 medium carrots
1 apple - Golden Delicious or Granny Smith
1 tbs brown sugar
1 tbs Balsamic vinegar
2 tbs olive oil
1 tbs butter
 Instructions:
Trim tenderloin if needed, but leave whole.
Cut potatoes and carrots into sticks, 1/2 X 2" (1.25 X 5cm).
In medium bowl mix sugar and vinegar, stirring until sugar is dissolved.
Add oil and mix well.
Add potatoes and carrots and toss to coat.
Spread the potatoes and carrots out in a baking dish large enough to hold everything easily.
Coat tenderloin with remaining vinegar/sugar and place in center of pan, with vegetables around it.
Bake, uncovered, in 400F (200C) oven for 20 minutes.
After 15 minutes, cut and core apple.  Slice into thick wedges.
Melt butter in nonstick skillet.  Add apples and toss to coat well.
Remove pork and vegetables from oven.
Turn the pork and stir the vegetables, turning them also.
Arrange the vegetables in a single layer, with pork on top of some of them, in the center of the pan.
Lay the apple slices around the vegetables and return it all to the oven for the last 20 minutes.
Remove, let the pork rest while you arrange the potatoes and apples on a small platter.
Slice the pork and place on top.
Pour over any pan juices and serve.