Main Course Menu Plan: Week 8 
Summer II
Day 1:

Salmon Salad with Spanish Rice, Pimento Dressing

Total time: 40 minutes
   This is a layered salad, with tomato-infused brown rice, shredded, fresh zucchini and roasted or grilled salmon, finished with a red pepper dressing. If you use quick-cooking Brown Rice it all goes together fast.  Everything can be cooked ahead and assembled just before serving.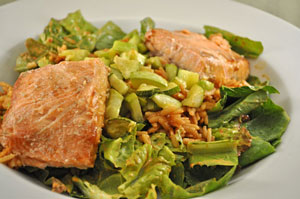 Ingredients:
For the salmon:
2 salmon filets, 12oz total (360gr)
1 tbs fresh parsley
1 tbs fresh tarragon
1/4 tsp salt
1 tbs olive oil
For the Spanish Rice:
1/3 cup (2.2oz, 65gr) brown rice, quick cooking
2 tbs chopped onion
1 clove garlic, minced
1 tomato
1 tbs olive oil
2/3 cup (5oz, 150ml) chicken stock
For the Zucchini:
1 small zucchini (courgette) - about 7 inches long (15cm)
2 tsp olive oil
Dressing for the Salad:
4oz (120gr) pimiento (pimento) or roasted red peppers    'net weight' of the pimento, not including the liquid
1/2 cup (4oz, 120gr) plain or Greek yogurt
1/2 cup (4oz, 120gr) mayonnaise
1 tbs fresh chopped oregano
1 tbs fresh snipped chives
1 tbs lemon juice
1 tbs good olive oil
For salad
lettuce for main course salad for 2 people
 Instructions:
For the salmon:
Snip the parsley and tarragon. 
Mix herbs with the salt, oil and spread on the salmon.
Bake at 400F 200C) for 15 minutes, or until done. 
Remove and set aside. 
Could also be done on the barbecue grill for about 10 minutes. If done earlier in the day, refrigerate until ready to use.
For the Spanish Rice:
Finely chop onion and mince garlic.
Roughly chop tomato. 
Heat oil in small saucepan.  Add onion and sauté until transparent. 
Add garlic and rice and sauté 2 minutes. 
Add chicken stock and tomato, cover, reduce heat and simmer until rice is done (package directions). 
Uncover, fluff with a fork and set aside - if done earlier in the day, refrigerate until ready to use.
For the zucchini:
Quarter the zucchini the long way, then slice.
Sauté the zucchini in oil just until softened and tender.
Dressing for the Salad:
Snip/chop herbs. 
Drain pimento. Put pimento, yogurt into a blender and purée. 
Pour the yogurt mixture into a small bowl.  Add the mayonnaise, lemon juice, olive oil and herbs, stir to combine. 
To Finish:
Prepare lettuce, tear and put in large bowl. 
Add 4 tbs dressing and toss well.  Divide and put in 2 flat salad bowls or on 2 plates.
Fluff the rice, divide and spread on the lettuce. 
Put the zucchini on top of the rice. 
Cut the salmon into 4 nice pieces, divide and arrange on zucchini. 
Serve with more dressing on the side.
Day 2:

Brined and Grilled Pork Loin

Total time: 60 minutes with 5 minutes earlier
   Brining pork adds moisture and flavor, making what can be a somewhat dry cut, tender and succulent.  It's easy to do and there's a lot of leeway on the timing: more than 6 hours but less than 24.  If you don't have a deep enough bowl, try a saucepan or even a food bag that seals well. Use an 'instant read' meat thermometer.
 Ingredients:
2 cups water very cold water
1 cup ice cubes
1/4 cup sea, kosher or other course salt
2 tbs brown sugar
2 tbs molasses
1 cup very strong coffee 

I used 3 tsp of instant coffee - so about 3 times stronger than normal

2 cloves garlic, crushed  

just smash it with the flat of a knife or the heel of your hand

1 tbs paprika
1 pork loin roast, boneless, 2  - 2 1/2  lbs. (1 - 1 1/2 kg)
 Instructions:
Earlier in the day

, at least 6 hours and up to 24 hours before cooking: Put salt, sugar, molasses and paprika in a deep bowl. 
Add coffee and mix well.
Add water and stir until sugar and salt are dissolved. 
Add garlic and ice, stir. 
Add pork; you should be able to completely submerge it (although it will float). Cover and refrigerate. 
Turn once or twice during the day if you think of it.

When ready to cook

, remove pork and cook on barbecue grill on indirect medium heat for 45 - 60 minutes, turning to brown all sides. 
Cook until 145F (62C) or until only pale pink in center. 
Remove and let rest 5 - 10 minutes. 
Slice half of it (or less) and serve.
Day 3:

 Barbecued Flank Steak   

Total time: 25 minutes
     A simple marinade for a simple cut but it imparts lots of complex flavors.  To make the most of a flank steak, cook it quickly to medium-rare, than slice it thinly across the grain at an angle ...think of it as a square and slice diagonally from corner to opposite corner.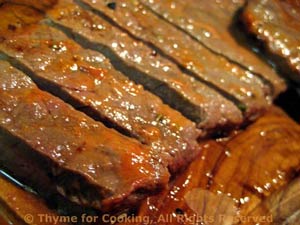 Ingredients:
12oz (360gr) flank steak
1 clove garlic minced or crushed
1 tsp dried oregano
1 tbs Dijon mustard
1/4 cup ketchup
1 tbs soy sauce
1 tbs olive oil
 Instructions:
Mix all ingredients except flank steak and pour over flank steak coating both sides well.  Marinate 15 - 45 minutes (or longer in the fridge). 
Cook over high heat 3 - 5 minutes per side or broil 5 - 6 minutes a side - or until done as liked. 
Slice thinly at an angle on the diagonal for the most tender slices.  Serve.
Note:  The photo is not a flank steak - we can't get them but this is fairly close
Day 4:

 Salad with Pork, Green Beans and Mozzarella

Total time: 35 minutes
    A cold salad can be just the thing for a hot summer evening. 
 Ingredients:
 Instructions:
The potatoes: 
Slice potatoes in half the long way, then in half again.   Then slice in half or thirds the short way. 
Put olive oil in a large bowl, add potatoes and stir to coat.  
Arrange potatoes on baking sheet with rim (I use my trusty, round pizza pan) Bake at 400F for 30 minutes.  You can stir/turn once if you like to fuss but I usually don't bother.
The beans: 
Top and tail beans and cut into 1 inch lengths. 
Fill a medium saucepan 2/3 full of water and bring to a boil over high heat. 
Add beans and blanch for 3 minutes. 
While the beans cook fill a medium bowl or pan 3/4 full of cold water.  When the beans are done, drain and dump into the cold water.  Swirl around until cool then drain and set aside.
The rest: 
Prepare lettuce, tear and put into a large salad bowl.
Tear large basil leaves, snip chives and add herbs to salad.
Cut pork into strips. 
Cut cheese and tomatoes into large chunks. 
Vinaigrette:
Whisk vinegar and mustard together in a small bowl.  Slowly whisk in oil.

To finish:

 
Add 2 - 3 tbs vinaigrette to lettuce and toss well to combine.  Taste, adjust. 
Arrange the pork, beans, potatoes, tomatoes and cheese nicely on the lettuce and serve, extra vinaigrette on the side.
Day 5:

 Grilled Chicken Breasts with Honey Mustard Glaze

Total time: 30 minutes
    The chicken breasts are first marinated in lemon, oil and garlic, then grilled and basted with a lemon, honey and mustard mix.  Since we are using the reserved marinade as a basis for the basting sauce resist the temptation to taste it.  And stop basting a few minutes before the chicken is done, to finish cooking the sauce.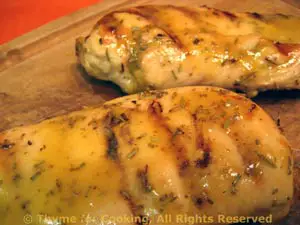 Ingredients:
2 chicken breasts, boneless, skinless
1/4 cup (2oz, 60ml) lemon juice  

preferably fresh

1/4 cup (2oz, 60ml) olive oil
1 tsp dried rosemary
1 tsp dried thyme
1 tsp garlic powder
2 tbs honey
2 tbs Dijon-style mustard
 Instructions:
In small bowl mix lemon juice, oil, herbs and garlic powder. 
Place chicken breasts in a dish with sides and pour marinade over.  Let marinate 10 - 15 minutes or up to 4 hours in the refrigerator. 
Remove from marinade, reserving marinade.
Pour reserved marinade into a small bowl.  Add honey, mustard and whisk to combine.
Cook chicken on barbecue grill for 7 - 10 minutes per side, or until done, basting with marinade sauce. 
Could also be sautéed in a nonstick skillet for same amount of time. 
Discard any leftover sauce.  Serve.
Day 6:

 Teriyaki Chicken and Barley Salad

Total time: 25 minutes
      Grilling the chicken breasts adds lots of flavor to this hearty salad. 
 Ingredients:
2 chicken breasts, boneless, skinless
3 tbs Teriyaki sauce or marinade
2/3 cup (3.3oz, 95gr) barley, quick cooking
1 1/3 cups (11oz, 330ml) chicken stock
1 3/4 cup (15oz, 450gr) red kidney beans
1/2 green bell pepper  or any other color
1/2 cup green olives, 12 - 16
1 - 2 tomatoes
2 tbs fresh basil
2 tbs fresh, snipped chives
Teriyaki Vinaigrette:
1 tbs Dijon-style mustard
1 tbs Balsamic vinegar
1 tbs Teriyaki sauce or marinade
2 tbs salad olive oil
 Instructions
The chicken:
Spoon the Teriyaki sauce over the chicken breasts and set aside to marinate for a few minutes. 
When ready, cook on barbecue grill for 10 - 12 minutes, turning once or under broiler for same amount of time or sauté in non-stick skillet for 12 - 15 minutes, until done. 
The barley:
Cook barley in chicken stock according to package directions. 
The rest: 
Open, drain and rinse beans. 
Chop green pepper.
 Cut tomatoes into slices, then quarters. 
Slice olives in half.
Snip herbs. 
Teriyaki Vinaigrette:
Whisk mustard, vinegar and Teriyaki together in a small bowl. 
Drizzle in olive oil, whisking constantly, until thickened.
To finish: 
Slice chicken breasts. 
Fluff barley, drain if needed. 
Combine all ingredients in a large bowl. 
Add vinaigrette, stir gently to combine and serve.