Main Course Menu Plan: Week 13 
Winter II
Day 1:

Risotto with Shrimp, Scallops and Mushrooms  

Total time: 30 minutes
     Sometimes risotto uses up leftovers; sometimes it's for special occasions, like this one.  The occasion? It's the end of the week.  I like to use half scallops and half shrimp, but all of either would be equally good.  Risottos are meant to be creamy, not stiff.  The risottos that we have eaten in northern Italy have all been served in soup plates (flattish bowls) and eaten with a spoon - not a fork.
 Ingredients:
2/3 cup ( 4.2oz, 125gr) Arborio rice

(or other rice specifically for risotto - Carnaroli or Vialone Nano)

1/3 cup (3oz, 90ml) dry, white wine
2 1/4 cups (18oz, 540ml) fish, seafood or chicken stock
1/2 onion

other half for the condimenti

1 tbs butter
3/4 cup (3oz, 90gr) Parmesan cheese - freshly grated
Condimenti
4oz (120gr) cleaned shrimp
4oz (120gr) scallops
4oz (120gr) mushrooms
1/2 onion
1 clove garlic
1 tbs olive oil
1/4 cup (2oz, 120ml) Greek yogurt, cream, or creme fraiche
1 tbs dried parsley
 Instructions:
Heat stock and keep hot over low heat. 
Finely chop onion. 
In medium saucepan heat butter over medium-high heat. 
Add onion and sauté until transparent, then add rice and sauté stirring, for 2 - 3 minutes until rice has white center. 
Add white wine and stir. 
Start condimenti. 
When wine is almost absorbed add a 1/3 cup of stock, stir.  (No need to stir constantly but do stir from time to time.) 
When stock is almost absorbed add another 1/3 cup and continue adding 1/3 cup at a time and stirring. 
Before the last 1/3 cup taste a few kernels of rice.  They should be just 'al dente' - slightly resistant to the tooth but fully cooked.  If more stock is needed add it, a few tbs at a time, and waiting until almost completely absorbed. 
At this point risotto will be thick but not stiff - there will still be visible liquid and it will not hold it's shape on a plate.  Add the Parmesan and the condimenti, stir well, pour into a bowl or risotto platter and serve immediately.  It will continue to absorb liquid and the leftovers (if any) will be quite stiff. 
Condimenti
Chop onion and mince garlic. 
Trim and slice the mushrooms. 
Clean shrimp if necessary. 
While risotto is cooking, heat oil in medium skillet. 
Add onions, garlic and mushrooms, sauté until starting to brown, about 10 minutes.  
Add shrimp and scallops, sauté until cooked, another 5 minutes. Both shrimp and scallops will turn opaque when done. 
Turn off heat, stir in yogurt and parsley, cover and keep warm until needed for risotto.
Day 2:

Baked Lamb Chops with Persillade

Total time: 20 minutes
     Persillade is what goes into Escargot Bourguignon to make it so delicious.  It goes into a lot of other dishes in France as well. Baking lets the persillade stay on the chops rather than in the pan.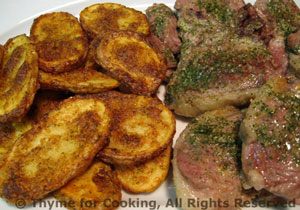 Ingredients:
 Instructions:
Finely mince garlic and parsley together. 
Place a shallow rack on top of a baking sheet. 
Brush both sides of the chops with oil. 
Sprinkle with, and press in, the persillade on both sides of the chops. 
Place the chops on the rack and bake, 450F (225C) oven for 7 - 15 minutes, depending on thickness.  Mine were 3/4" thick (2cm) and I baked them for 7 minutes for medium rare.  If yours are 1" thick (2.5cm) I would suggest 8 - 9 minutes.  If they are 2" thick (5cm) I would suggest 15 minutes.  They will not 'brown' but do stay incredibly moist and succulent. 
Remove from oven and serve.
Day 3:

 Chicken Breasts with Spanish Rice

Total time: 40 minutes
    I use a quick cooking brown rice in this dish; it cooks in 20 minutes. You can use whatever rice you choose (except instant) just adjust the liquid and cooking time accordingly. The tomato juices cook right into the rice, adding color and flavor!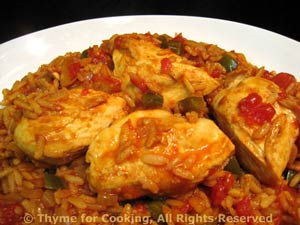 Ingredients:
2 chicken breasts, boneless, skinless
1 onion 
1/2 green bell pepper
2 cloves garlic
1 tsp chili powder
1/2 cup (3.3oz, 95gr) quick-cooking brown rice   

substitute basmati

1 3/4 cups (15oz, 450gr) whole tomatoes
1/4 - 3/4 cup chicken stock or water
2 tsp Worcestershire sauce
1 tbs olive oil
 Ingredients:
Chop onion and pepper.
Mince garlic.
Heat oil in deep skillet over medium heat.  Add chicken breasts, and brown on both sides, about 5 minutes each.
Remove to a plate. 
Add chili powder, onion, pepper, and garlic.  Sauté for 5 minutes. 
Open tomatoes and drain liquid into a bowl.
Chop the tomatoes and drain again.
Add drained tomatoes, Worcestershire sauce and rice to pan.
Measure the drained liquid and add enough water or chicken stock to equal 1 cup (or however much liquid your rice package calls for).
Pour this over the rice/vegetables in the skillet and stir well to combine. 
Lay the chicken breasts on top of the rice and cover.
Reduce heat to simmer and cook until rice is done, about 20 minutes - check rice package. 
Stir occasionally while cooking. 
When done, serve - either from the pan or arrange nicely on a platter.
Day 4:

 Beef Patties with Mushrooms

Total time: 30 minutes
    Use wild or exotic mushrooms if you can.  It's the season and we may as well take advantage.  But even the plain white button or brown cremini will make a delicious sauce.
 Ingredients:
12oz ground beef (360gr mince)
1 onion
4oz (120gr) mushrooms
1 clove garlic
1 tbs oil
2 tbs bread crumbs
1 tsp basil
1 tbs beef stock
1 tbs ketchup
1 tbs soy sauce
1/3 cup (3oz, 90ml) beef stock
2 tsp Dijon-style mustard
1/3 cup (3oz, 90gr) ketchup
 Instructions:
Finely chop onion, mince garlic. 
Finely chop about 1/4 of the mushrooms.  Thickly slice the rest.  
In large nonstick skillet over medium heat sauté 1/2 the onion, the garlic and chopped mushrooms about 5 minutes or until tender. 
Remove from heat and set aside. 
Put bread crumbs, basil, 1 tbs ketchup, soy sauce, and 1 tbs stock in medium bowl and mix well. 
Add the beef and sautéed onion mixture.  Mix well - hands work best, and form into 4 patties. 
Return the skillet to medium heat. Add the burgers and sauté, 5 - 7 minutes per side. 
Remove, cover to keep warm. 
Add mushrooms and remaining onion to skillet and sauté about 5 minutes or until tender. 
Add beef stock, mustard and ketchup to pan and bring to a boil, stirring to mix well. 
 Return patties to pan.  Reduce heat and simmer 5 minutes to blend flavors and heat patties.  Serve.
Day 5:

 Tuna and White Bean Enchiladas

Total time: 35 minutes
     A different twist on the traditional enchilada, this has a white sauce, white beans and white cheese... Enchilada Blanca....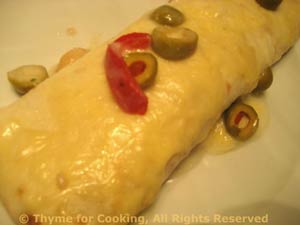 Ingredients:
1 onion
1/2 green bell pepper
4oz (120gr) pimiento or roasted red peppers
4oz (120gr) green chilies
1 rib celery
3 cloves garlic
1 tbs olive oil
9oz (270gr) tuna
1 3/4 cups (15oz, 450gr) white beans (cannellini)
1 cup (4oz, 120gr) shredded Gruyère cheese - divided
1/2 cup green olives - pimento stuffed
2 cups (16oz, 480ml) chicken stock
3 tbs cornstarch (maizena) dissolved in 3 tbs chicken stock
1/2 cup (4oz, 120ml) Greek or plain yogurt or sour cream
4 corn or wheat tortillas
 Instructions:
Chop onion, green pepper and celery. 
Finely chop garlic.
Drain chilies, pimiento, and tuna.
Chop chilies if whole.
Slice pimiento.  Slice olives.
Drain and rinse beans.
Heat oil in medium nonstick skillet.  Add onion, pepper, celery and garlic.   Sauté until vegetables are tender, 5 - 7 minutes.
Remove from heat. Add green chilies, tuna and white beans.
Heat chicken stock to boiling.
Dissolve cornstarch in chicken stock.
Stir cornstarch into simmering broth to thicken.
Remove from heat and stir in yogurt.
Put 1/2 cup of the sauce into a baking dish large enough to hold 4 enchiladas.
Add 1/2 cup of the sauce and 1/2 cup of the cheese to the tuna mixture.
Divide the tuna mixture into fourths.
Lay 1/4 of the pimiento slices on each tortilla.
Spoon 1/4 of the tuna/bean mixture on top and roll up. Place seam side down on the sauce in the baking dish.
Pour the rest of the sauce over the finished enchiladas, sprinkle with the remaining 1/2 cup cheese and the olives.
Bake at 375F (190C) for  20 minutes, until heated through and cheese is bubbly.
Day 6:

 Pork Chops Diablo

Total time: 30 minutes
     Diablo or deviled usually means spicy, often hot and always full of rich, complex flavors.  These zesty pork chops are a perfect example. The ones I get are quite thin.  You may need to increase the cooking time if you are using very thick chops.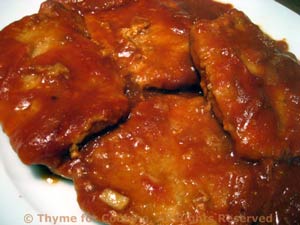 Ingredients:
2 - 4 pork chops, depending on size, 12oz (360gr) total
1 onion
2 tbs chili powder
1/4 cup flour
4 tsp olive oil
1 cup (8oz, 240ml) tomato sauce
1/2 cup (4oz, 120ml) beef stock (broth)
1 tbs Worcestershire sauce
1 tsp dry mustard
1 tbs cornstarch (maizena) dissolved in 2 tbs water
 Instructions:
Roughly chop onion.
Combine flour and 1 tbs chili powder in plastic food bag. 
Add pork chops and toss to coat.
In nonstick skillet, large enough to hold the chops, heat 2 tsp oil over medium-high heat.
Add chops and sauté about 3 minutes per side, until lightly browned.
Remove and set aside.
Add remaining 2 tsp oil and the remaining 1 tbs chili powder.
Sauté for 1 minute, then add onions. 
Sauté about 5 minutes until onion starts to brown.
Add tomato sauce, broth, Worcestershire, mustard and bring to a boil.
Add cornstarch mixture and cook, stirring constantly until thickened.
Reduce heat to low and return chops to pan.
Cover, and simmer chops until done, about 10 minutes, turning once.
Serve chops with sauce and onions.