Main Course Menu Plan: Week 12 
Winter II
Day 1:

Sautéed Shrimp (Prawns) in Lemon and Garlic Butter

Total time: 25 minutes
     The smell of garlic slowly cooking in butter is only improved by the addition of shrimp, lemon and parsley. You could substitute 1 tbs of olive oil for 1 tbs of the butter if you wish - or use all olive oil. But we don't (usually) eat a lot of butter, so we indulge in this recipe.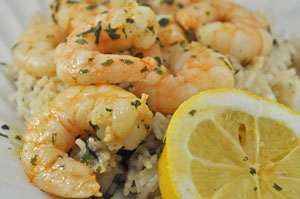 Ingredients:
12oz (360gr) shrimp (prawns), cleaned
4 - 5 cloves garlic
1/4 tsp paprika
2 tbs butter
2 tbs fresh lemon juice
2 tbs fresh, snipped parsley

substitute 2 tbs dried

Lemon Garlic Basmati Rice:
1/2 cup (3.3oz, 95gr) Basmati rice
1 clove garlic
2 tsp butter
1 cup (8oz, 240ml) chicken stock
1 tsp dried thyme  
1 tbs lemon juice
 Instructions:
Day 2:

Chicken Divan

Total time: 45 minutes
     An old classic, updated for a healthier lifestyle, but still with the proper amount of decadence.  I use yogurt instead of sour cream, less cheese, stock instead of 'condensed creamed' soup, and no mayonnaise.  I think it's better than the original....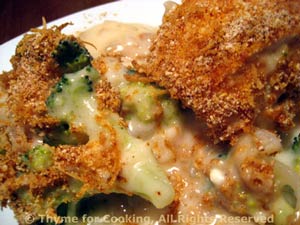 Ingredients:
2 chicken breasts, boneless, skinless
1 small head broccoli (enough for 2)
2 shallots
1 clove garlic
1 tbs olive oil
3/4 cup (6oz, 180ml) chicken stock
1/2 cup (4oz, 120ml) white wine
2 tbs cornstarch (maizena) dissolved in 2 tbs water
1/2 cup (4oz, 120gr) Greek yogurt or crème fraiche
1/2 cup (2oz, 60gr) Gruyère, shredded
1/4 cup (1oz, 30gr) Parmesan
1/4 cup dry bread crumbs
1 tsp paprika
 Instructions:
Put chicken stock in a medium skillet, just large enough to hold chicken breasts. 
Cut breasts in half (the short way) and add to stock. 
Cover pan and poach over medium heat until done, about 15 minutes.
Cut broccoli into small florets (with some stem), put into a steamer basket and steam over medium heat until barely tender, 6 - 7 minutes.
Finely chop shallots and garlic (techniques).
Heat oil in a medium saucepan over medium heat. 
Add shallots and garlic and sauté. 
Add white wine and simmer. 
When chicken is done, remove from stock and add stock to white wine/shallot mix. 
When simmering nicely thicken with dissolved cornstarch. 
Add yogurt and shredded cheese, stir well.  Remove from heat. 
In a baking dish (I use my 8 X 11 inch (20 X 27.5cm) oval ceramic) spoon 1/3 of the sauce. 
Arrange drained broccoli over cheese sauce. 
Put 1/3 sauce over broccoli. 
Arrange chicken on top, and pour over remaining sauce. 
Mix the Parmesan, bread crumbs and paprika and sprinkle over all. 
Bake in a 400F (200C) oven 15 - 20 minutes, until hot and bubbly.  Serve directly from the dish.
Day 3:

 Beef and Root Vegetable Stew

Total time: 90 minutes
    Sherry adds flavor notes that go well with stews.  It blends well with the traditional root vegetables. You could add parsnips, turnips or celeriac, as well.  This make enough for 4 servings.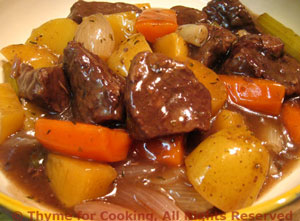 Ingredients:
24oz (720gr) beef stew meat
4 tbs flour
1 1/2 tbs paprika
6 shallots
3 medium carrots
1 small rutabaga (swede)
3 potatoes
3 ribs celery
2 cloves garlic
1 tbs olive oil
1 tsp oregano
1 tsp thyme
1 tbs tomato paste
3 bay leaves (laurel)
2 cups (16oz, 480ml) beef stock/broth
1/2 cup (4oz, 120ml) sherry or red wine
1 tbs cornstarch (maizena) dissolved in 2 tbs beef stock (if needed)
 Instructions:
The beef:

 
Cut beef into 1 1/2" (4cm) pieces. 
Put flour and paprika into a plastic food bag and mix well.
Add beef, close bag and toss well to coat thoroughly.
Heat oil in a medium pot or Dutch oven over medium-high heat.  Add beef and brown on all sides.
Mince garlic, add and sauté 1 minute.
Add broth, sherry, tomato paste, herbs, and stir well to scrape up any browned bits. 
Cover and bring to a boil.  Reduce heat and simmer 30 minutes, or simmer very slowly for several hours.
Start the vegetables an hour before dinner.
The vegetables:
Peel shallots and leave whole. 
Peel rutabaga and cut into large chunks, about, 3/4" (2cm) cubes.
Peel or scrape carrots, cut into 2 inch (5cm) lengths, then quarter the long way. 
Cut celery in half the long way, then into 2" (5cm) lengths.
Quarter the potatoes the long way then cut in half or thirds depending on size.  Put potatoes into a bowl of water to prevent discoloring. 
Add shallots, rutabaga, carrots, celery to beef.  Stir well, cover and simmer 20 minutes. 
Drain the potatoes and add to stew.  Simmer 30 minutes longer, until vegetables are tender.
To finish:
If desired, for a thicker gravy, dissolve cornstarch in beef stock.
Uncover, increase heat and remove bay leaves.
Add cornstarch and stir until sauce is thickened.  Serve directly from pot or ladle into serving bowl.
Day 4:

 Turkey Cutlets with Sherry and Almonds

Total time: 15 minutes
     Much more economical than the traditional veal cutlets, breaded turkey with a light sherry and almond sauce is an impressive, but simple dish.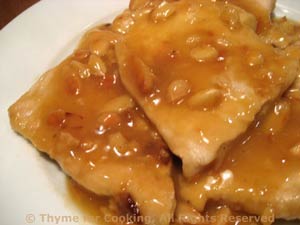 Ingredients:
2 - 4 turkey cutlets, depending on size, 12oz total (360gr)
2 tbs flour
1/4 cup (1oz, 30gr) slivered or roughly chopped almonds
1/4 cup (2oz, 60ml) chicken stock
1/4 cup (2oz, 60ml) sherry
1 tbs olive oil
1 tbs butter
2 tsp cornstarch dissolved in 1 tbs chicken stock
 Instructions:
Day 5:

 Spanish Pork with Peppers and Olives 

Total time: 30 minutes
     Spain, like most countries with a warm climate, grows and eats lots of peppers.  In Andorra I used long, green chilis.  Now I make do with bell peppers.  Use hotter peppers if you prefer.  And the olives?  They're everywhere!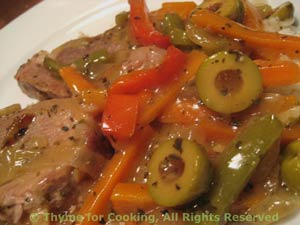 Ingredients:
1 pork tenderloin, 12oz (360gr)
1/2 green bell pepper
1 onion
2 cloves garlic
2 medium - large carrots
1/2 cup olives, pimento stuffed
1 tsp dried basil
1 tsp dried marjoram
1/4 (2oz, 60ml) cup white wine
1/4 (2oz, 60ml) cup chicken stock
2 tbs white Balsamic vinegar
1 tbs olive oil
2 tsp cornstarch dissolved in 1 tbs water
 Instructions:
Day 6:

 Sausage & Artichoke Quiche

Total time: 75 minutes
    The variations on quiche are almost infinite.  The sausage adds a lot of flavor - use any sausage you like, hot or sweet, squeezing it out of the casing to brown. Pre-cooking the rice makes it all come together quickly.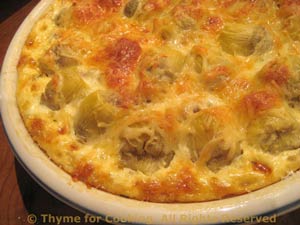 Ingredients:
1/2 cup quick-cooking brown rice
1 cup (8oz, 240ml) chicken stock 

Or

1 1/2 cups cooked rice
1 cup (4oz, 120gr) shredded cheese   

I use Gruyère

3 eggs
1 medium onion
1/2 green bell pepper
2 cloves garlic
1 tbs olive oil
1 tsp thyme
1 tsp oregano
8oz (250gr) sausage  

turkey or pork...

14oz (420gr) artichoke hearts, well-drained
1 cup (8oz, 240ml) milk
 Instructions: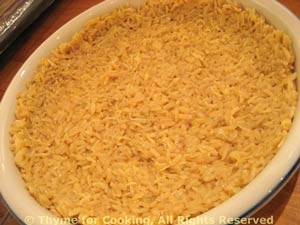 The crust: 
Cook brown rice in stock according to package directions.  Can be done ahead or even the night before. 
Oil a 9" (22 cm) pie or quiche plate. 
Lightly whisk 1 egg. 
Add 1/4 cup of the cheese and the cooked rice.  Mix well. 
Pat into the quiche plate, working it up the sides as best you can.  Bake in 375F (185C) oven for 10 minutes. 
Remove and set aside. 

Note: 

If you cook rice just before using, spread it on a plate to cool for 5 minutes before adding it to the egg.
The filling:
Chop onion, pepper and mince garlic.
 Heat oil in skillet over medium heat.  Add onion, pepper and garlic and sauté 5 minutes. 
Add sausage and brown, breaking it up.  If you are using whole sausages, either slice thinly or remove meat from casing. 
Add herbs. 
Drain artichokes and slice in half.
When meat is done spread mixture evenly over rice. 
Arrange artichokes on top of meat.
Sprinkle with cheese. 
Whisk remaining 2 eggs well. 
Add milk and whisk to combine. 
Pour over all and bake for 45 minutes. 
Let stand 5 minutes before serving.
Note:  I put the quiche/pie plate on a pizza pan before pouring the egg/milk over.  Makes it easier to get into the oven and catches any drips and spills - saving oven clean-up.
Second note:  My sausage meat is always quite dry.  I have to add oil to brown it and there is no extra fat at the end of cooking.  If yours puts off a lot of fat, drain it before putting in the quiche.