Main Course Menu Plan: Week 10 
Summer II
Day 1:

Grilled Glazed Salmon

Total time: 20 minutes
    Using a natural sweetener like maple syrup or honey brings out the sweetness in the salmon.  Combined with a bit of Balsamic it creates a rich, thick glaze, keeping the salmon moist and tender.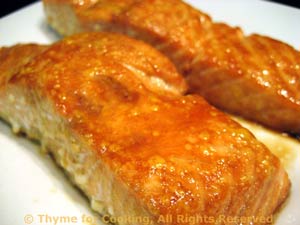 Ingredients:
2 salmon fillets, 6oz each (180gr each)
1 tsp chili powder
1/2 tsp garlic powder
2 tsp maple syrup or honey
1 tbs Balsamic vinegar
1 tbs olive oil

1 tbs lemon juice

  

fresh is good
 Instructions:
In small bowl mix all ingredients except salmon and lemon. 
Drizzle over salmon and allow to marinate for 15 minutes. 
Put salmon in a grill basket if using barbecue grill or on mesh grill pan if you don't have a basket.  Grill for 10 - 12 minutes, skin-side down, with the grill cover closed.  Be careful not to overcook. 

OR

put on baking sheet and roast in 400 F oven for 15 - 20 minutes, depending on thickness.  In both case salmon will be done when it flakes easily, slightly pink in the center is fine. 
Remove from heat and slide the salmon off the skin if needed. 
Sprinkle with lemon juice and serve.
Day 2:

Grilled Cornish Hens (Poussin) with Molasses Glaze

Total time: 60 minutes
    The combination of molasses, vinegar and soy sauce gives the chicken a flavor reminiscent of Peking Duck and leaves the crisp skin a lovely mahogany color.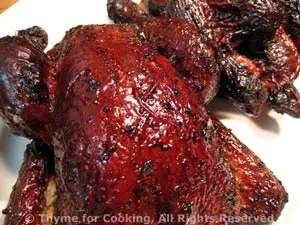 Ingredients:
2 Cornish game hens or poussin (little chickens)
1 tbs olive oil
3 tbs molasses
2 tbs red wine vinegar
1/2 lemon squeezed or 2 tbs lemon juice 
1 tbs soy sauce
1 tbs Dijon-style mustard
1 tsp finely ground black pepper
 Instructions:
Tie legs together with kitchen string and fold wing tips under back (at first joint) - keeps them from flapping. 
Rub birds with olive oil. 
Mix all remaining ingredients together in a small saucepan.
 Heat to boiling and simmer for 1 minute. 
Cook hens on barbecue grill over indirect heat, covered, for 45 - 60 minutes or until done. 
Brush with the glaze immediately and 3 or 4 more times while cooking. 
Chicken is done at 160 F (70C) on your meat thermometer and/or the juices run clear when pierced with knife. 

Or

they can be baked in a shallow roasting pan in a 400F oven for the same amount of time - until done, basting the same. 
When done, remove from heat, cut string and serve - don't forget finger bowls (it's messy) and bone bowls (to keep your plates tidy).  Serve whole or cut each bird in half.
Note: One would probably be enough for 2 people if it is on the larger side...  Or you can substitute your favorite chicken pieces for the hens.
Day 3:

 Grilled Pork Tenderloin with Ginger Barbecue Sauce

Total time: 35 minutes
     Try not to overcook pork; slightly pink on the inside is now acceptable and keeps the meat moist and succulent.  Put some of the barbecue sauce in a separate bowl to be used for basting and discard or cook any leftover basting sauce.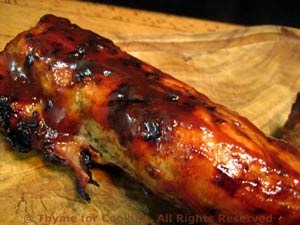 Ingredients:
1 pork tenderloin, about 12oz (360gr)
1 tbs paprika
1 tsp garlic powder
1/2 cup

Ginger Barbecue Sauce
 Instructions:
Mix paprika and garlic powder.  Rub over pork. 
Put pork on barbecue or in 400F (200C) oven for 25 - 30 minutes.  Turn occasionally to brown on all sides. 
Baste pork with barbecue sauce after 15 minutes.  Baste 2 - 3 times.  When you think pork is done slice into middle to check.  It should be done to an internal temp of 145F (62C). 
Remove, slice about 1/2" (1.5cm) thick and serve, drizzling with any remaining barbecue sauce.
Ginger Barbecue Sauce
Time: 10 minutes
Similar to our regular barbecue sauce but a bit spicier with the ginger and mustard. This will keep a week in the fridge.... But it never lasts that long.   Adding the full 2 tsp of mustard and ginger will make it a bit spicy/hot
 Ingredients:
1 cup (8oz (240ml) tomato sauce
2 tbs molasses
2 tbs cider vinegar

or other vinegar

1 - 2 tsp dry mustard   

try 1 tsp, taste after heating, add more if you like

1 - 2 tsp ground ginger 

try 1 tsp, taste after heating, add more if you like

1 tbs soy sauce
 Instructions:
Heat all ingredients in a small saucepan, whisking to combine. 
Bring to a simmer just long enough to combine all ingredients.  
Note: Remove 2 - 3 tbs barbecue sauce to use for basting rather than dipping the basting brush or spoon into that entire sauce.  
Day 4:

 Tuna Pasta Salad with Mustard Yogurt Dressing

Total time: 25 minutes
     Using a yogurt based rather than mayonnaise based dressing keeps it healthy... but still creamy. 

 Ingredients: 

 Instructions:
Cook pasta according to package directions. 
When done, drain and rinse lightly with cool water. 
Hard cook eggs.
Open and drain tuna. 
Cut tomato into large chunks. 
Make dressing: Whisk all ingredients together.  It will be quite thick.  
Peel eggs and roughly chop. 
Snip herbs.
Add half of the dressing to the pasta and toss gently to coat. 
Break up tuna and add to pasta along with the rest of the ingredients,  Toss lightly to combine.  Taste and add as much more dressing as desired. 
Serve.
Day 5:

 Grilled Teriyaki Burgers

Total time: 25 minutes
   These could be made with ground turkey or chicken as well.  The addition of the onions, breadcrumbs, ketchup and Teriyaki keeps them moist and flavorful.  I normally make 3 patties and serve 1 1/2 each.

 Ingredients:

 Instructions:
Finely chop onion, celery and mince garlic. 
Heat oil in a medium non-stick skillet over medium heat.  
Add garlic, celery and onion and sauté until onion is transparent.
Remove from heat and put into a large bowl. 
Add Teriyaki or soy, ketchup, breadcrumbs and ginger.  Mix well. 
Add beef and mix, hands work best. 
Shape into 3 or 4 patties. 
Oil hinged basket. 
Place patties in basket and cook on barbecue grill over direct heat for 4 - 5 minutes per side. 
Or cook directly on barbecue grill. 
Or sauté in nonstick skillet for same amount of time. 
Remove and serve with Ginger Barbecue sauce, either over the top or on the side.
Day 6:

 Pesto Pasta Salad with Grilled Chicken

Total time: 25 minutes
     This is not the prettiest salad, pesto usually isn't... But the taste is wonderful: the feta and Greek Olives adding just the right amount of contrast to the chicken and pasta.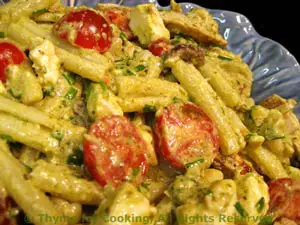 Ingredients:
 Instructions
Cook pasta according to package instructions. 
Chicken Breasts:
Mix Worcestershire, vinegar, basil and oil in a small bowl. 
Pour over chicken and allow to marinate a few minutes.
Salad:
Cut tomatoes in half. 
Cut feta into small cubes or crumble.
Pit olives, if needed, and cut in half or thirds.
Snip chives. 
Cook chicken, either on barbecue grill or nonstick skillet, 7 - 10 minutes per side, or until done. 
When done, remove and slice.
To finish:
In pasta bowl, mix pesto, oil and yogurt. 
When pasta is done drain, rinse lightly with cool water, drain well and add to pesto in bowl.  Toss to coat. 

Add chicken, tomatoes, olives, feta and chives, toss gently to combine and serv

e.