Main Course Menu Plan: Week 11 
Summer II
Day 1:

Barbecued Shrimp (Prawns)

Total time: 15 minutes, longer if you have to clean the shrimp
   Shrimp cook very quickly on the barbecue grill so be careful not to overcook, lest they be dry. They should just curl and be opaque.  The marinade helps retain moisture.  We cook them on a silicone grill mat, but a mesh pan will work, as well.... or skewers.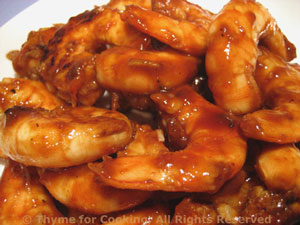 Ingredients:
12oz (360gr) large shrimp (prawns)
3 cloves garlic
2 tbs olive oil
1/4 cup ketchup
1 tbs soy sauce
1 tbs Balsamic wine vinegar
1 tbs molasses
1/2 tsp dry mustard
 Instructions:
Clean shrimp if needed, if not just rinse and let drain. 
Finely mince garlic and add to olive oil in medium bowl. 
Add shrimp and toss to coat.  Set aside until ready to cook. 
Mix ketchup soy sauce, vinegar, molasses and mustard, whisking well to combine. 
Just before cooking add about half of the barbecue sauce to shrimp and toss well. 
To cook on barbecue either put shrimp on skewers or cook in perforated grill pan or on a mat for 5 - 8 minutes, until done. 
To cook on stove add a little olive oil to a large frying pan and sauté over medium-high heat for 3-5 minutes, until done.  Shrimp are done when they curl and turn opaque. 
When done, remove from heat, toss with remaining sauce and serve.
Day 2:

Lamb Chops with Rosemary, Sweet and Sour Marinade

Total time: 30 minutes
    The Sweet and Sour comes from the marmalade and the vinegar... It's closer to the original Chinese sauce than what one finds on American 'Chinese' buffets.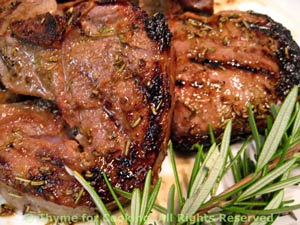 Ingredients:
 Instructions:
Put all ingredients (except lamb) into a small bowl and whisk well. 
Spoon over lamb chops and set aside for 15  - 30 minutes. 
Cook on barbecue grill for 2 - 5 minutes per side depending on thickness and desired degree of doneness (I don't know if that is a word - but you get the idea). 
Baste once with any remaining sauce. 
We do ours on a hot grill 2 minutes per side for medium rare.  When you think they might be close take one off, cut into center and peak.  You can always put them back on to cook more - you cannot undo...  When done to your liking remove from heat and serve. 
Or you can sauté in a hot nonstick skillet for about the same amount of time.
Day 3:

 Turkey and Green Bean Pasta Salad

Total time: 25 minutes
      I used Heirloom Tomatoes in the salad, the yellow and red Ananas.
 Ingredients:
1 1/4 cups (4.2oz, 125gr) pasta, fusilli, rigatoni
2 tsp olive oil
10oz (300gr) turkey cutlets or turkey breast
6oz (180gr) green beans
1/2 red onion 
1 - 2 tomatoes
2 tbs snipped fresh basil
Vinaigrette:
1 1/2 tsp Dijon-style mustard
1 1/2 tbs white Balsamic vinegar
3 tbs salad olive oil
 Instructions:
Cook pasta according to package directions, drain, rinse lightly in cold water.
Top and tail beans.  Cut into 1" lengths (2.5cm).
Thinly slice red onion.
Cut turkey into bite-size pieces. 
Heat oil in a medium skillet.  Add green beans and red onion, stir-fry 2 - 3 minutes, until just crisp-tender. 
Remove to a large bowl. 
Add turkey, stir-fry until lightly browned and cooked through. 
Remove and add to beans.  Stir all to help cool a bit.
Cut tomato into large chunks.
Snip basil. 

Make vinaigrette:

Put all ingredients in a small bowl and whisk well to combine.
To finish:
Add a bit of vinaigrette to turkey, beans, onions, stir to combine. 
Add pasta, tomatoes, herbs and a bit more of the vinaigrette, stir gently  and taste. 
Add more vinaigrette as desired.  (I used it all.)   Serve.
Day 4:

 Pork Chops Diablo, Grilled,

summer version

Total time: 30 minutes
  Pork chops with a kick, marinated and cooked on the barbecue grill.  If you want them hotter, more 'devilish' you could add a drop or 2 of Tabasco or other hot sauce. 
 Ingredients:
2 - 4 pork chops - depending on size 12oz total weight (360gr)
Marinade:
2 tbs Dijon-style mustard
2 tbs Worcestershire Sauce
2 tbs olive oil
2 tbs red wine vinegar
1 tsp chili powder
1/2 tsp garlic powder
 Instructions
Mix all ingredients for marinade and brush on chops.  Let marinate for 15 - 20 minutes. 
Cook on barbecue for 4 - 7 minutes a side or until done.  Should be slightly pink in center when done - take a peak (techniques). 

Or

fry in nonstick skillet over medium-high heat the same amount of time.  Serve.
Day 5:

 Grilled Chicken Breasts with Lemon and  Fresh Herbs

Total time: 30 minutes
    You can use any combination of herbs you have: more of some and less of others, just try for 4 tbs total.  Cook the chicken a little slower, over indirect heat, to keep them moist and not burn the herbs... too much...
You could use skin-on chicken breasts or thighs and stuff the marinade under the skin.  Cooking time would be longer if they were also bone-in.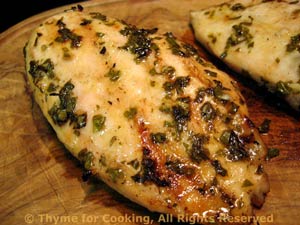 Ingredients:
2 chicken breasts, boneless, skinless
2 tbs olive oil
4 tbs lemon juice, fresh if possible
1 clove garlic, minced
1 tbs fresh snipped chives
1 tbs fresh snipped parsley
1 tbs fresh snipped basil
1 tbs fresh snipped tarragon
 Instructions:
In small bowl whisk together oil and lemon juice. 
Mince garlic, snip herbs and whisk into lemon and oil. 
Put chicken in shallow glass baking dish and spoon marinade over.  Let marinate 15 - 30 minutes.
Cook on barbecue grill over indirect heat 15 - 20 minutes or on baking sheet in oven (400F) for 25 - 30 minutes or until done. 
Baste with herbs and lemon after turning, then cover for 5 minutes. 
When done (knife poked in and juices run clear) remove from heat and serve.
Day 6:

 Stuffed Zucchini (Courgette) with Beef and Vermicelli

Total time: 45 minutes
     I used 2 small, 7" ( 17cm) zucchini for this, one green and one yellow.   If all the 'stuffing' doesn't fit, just keep it warm and serve it on the side.  I use vermicelli; I also will be using it in soups during the winter.  Orzo would also work, or broken spaghetti, but add a few minutes cooking time.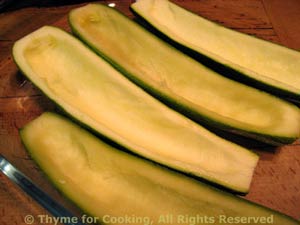 Ingredients:
2 zucchini or summer squash (courgette), 7" each (17cm)
5oz (150gr) ground beef, turkey or sausage 
2 large tomatoes, about 7oz (200gr) each
1/2 onion
1/2 green bell pepper
2 cloves garlic
1 tbs olive oil
1/4 tsp chili powder
1/2 tsp dried oregano
1/2 tsp dried basil
1/3 cup vermicelli or other tiny pasta
1/4 cup (2oz, 60ml) beef stock  

substitute chicken stock

1/4 cup (2oz, 60ml) red wine    

substitute more stock

1/2 cup (2oz, 60gr) shredded cheese,  any flavor - I use Emmenthal
  Instructions:
The zucchini:
Cut zucchini in half the long way. 
With a small spoon scrape out the seeds and flesh from the center forming long boat-like shells.  Leave 1/4" (.6cm) at either end to hold in the filling. 
Put them in a baking dish, single layer, cover with foil and bake, 400F (200C), for 15 minutes. 
Remove and keep covered until ready to fill.
The stuffing: 
Chop onion and pepper. 
Mince garlic. 
Heat olive oil in nonstick skillet over medium-high heat. 
Add chili powder and sauté briefly. 
Add onion, pepper and garlic, sauté until tender, about 5 minutes. 
Roughly chop tomato. 
Add meat to skillet and cook, breaking it up as it browns. 
Add tomatoes to skillet and cook until tender and juicy, about 5 minutes. 
Add herbs, stock, wine and pasta, stir well, reduce heat to medium and simmer 5 minutes.  Stir often or pasta will stick. 
The finish:
When the pasta has absorbed most of the liquid and the filling is fairly thick, spoon it into the zucchini. 
Any filling that doesn't fit, just keep warm and serve on the side. 
Cover zucchini with foil and bake for 15 minutes. 
Remove, uncover, sprinkle with cheese and bake 5 minutes longer. 
Serve, leftover filling on the side.