Braised Lamb with Chickpeas and Butternut Squash
Simple Couscous
Cooking time:  75 minutes for menu          Cooking schedule: see below for instructions
       I'm cooking my way around the Mediterranean this winter.  The lamb is a Moroccan dish that would, traditionally, be made in a tagine, or baking dish with a high, conical cover. Use one if you have it but any heavy pot or Dutch oven will work.
Braised Lamb with Chickpeas and Butternut Squash
Total time: 1 hour 15 minutes
    This is meant to be like a tagine - which is the name of both the method/type of cooking and the conical-shaped dish they are made in.  This should be thick and chunky, with little visible liquid remaining. Couscous is the traditional accompaniment.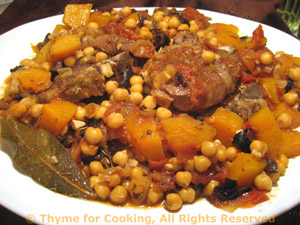 Ingredients:
 Instructions:
Slice shallots; mince garlic.
Drain and rinse chickpeas. 
Pit olives if needed and roughly chop. 
Cut lamb into large pieces and trim excess fat.
Heat oil in a heavy pot or Dutch oven with tight-fitting lid. 
Add lamb and brown on all sides. Remove and set aside.  
Add the shallots, garlic, paprika and sauté until tender and starting to brown, about 5 minutes. 
Return the lamb to the pot, add herbs, wine, tomato, chickpeas and squash. 
Cover, turn heat to low and braise for 60 minutes.  
When done, spoon meat and vegetables onto a platter and serve. 
Simple Couscous
Total time: 15 minutes
    This is couscous at it's simplest:  just a bit of herbs and oil, the perfect dish to accompany a sauced fish or meat...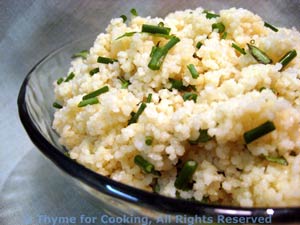 Ingredients:
1/2 cup (3oz, 90gr) couscous
3/4 cup (6oz, 180ml) chicken broth
2 tbs snipped chives
1 tbs snipped basil
2 tsp good olive oil
 Instructions:
Heat chicken broth to boiling. 
Put couscous in a medium bowl. 
When broth is boiling pour over couscous, cover and let stand for 10 minutes... Do not stir it.  
Add herbs and oil to couscous, fluff gently with a fork to combine and serve.
Cooking Schedule: 75 minutes for menu
Assemble all food, utensils and serving dishes
Utensils: measuring cups, spoons, knives,
small saucepan, medium bowl with lid or foil,
deep skillet or Dutch oven / lid
Heat oil in Dutch oven
Add lamb, brown
Slice shallots, mince garlic
Turn lamb
Open, drain tomatoes, chop 1 cup, reserve rest
Open, drain, rinse chickpeas, save extra
Remove lamb
Add shallots, garlic, paprika, sauté

Cut butternut squash
Pit olives, chop
Return lamb to pan
Add all remaining ingredients, reduce heat, cook
    Once it's simmering - take a 45 minute break...
Mind the lamb - give it a gentle stir if needed
Heat stock for couscous
Put couscous, herbs in bowl
Pour stock over couscous, cover
    Pause for 10 minutes
Fluff couscous
Spoon lamb and vegetables onto small platter
Serve