Main Course Menu Plan: Week 8 
Winter I
Day 1:

Red-Cooked Salmon with Peanut Sauce

Total time: 25 minutes
     'Red-cooked' refers to a Chinese technique of poaching or braising in soy-sauce based liquid. Salmon is not a typical fish in Chinese cuisine but it worked very well.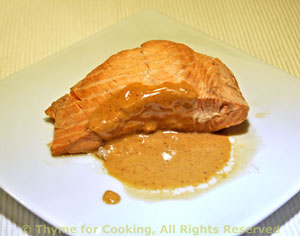 Ingredients:
2 salmon fillets,  12oz (360gr) total weight
1/4 cup (2oz, 60ml) soy sauce
1 tbs minced ginger
2 tbs red wine vinegar
1/2 cup (4oz, 120ml) water
Peanut Sauce:
3 tbs peanut butter
1 tbs soy sauce
2 tbs sherry
1/4 tsp garlic powder
1/4 tsp chili powder
 Instructions:
Salmon:

Add the soy sauce, ginger, vinegar and water to a skillet just large enough to hold the salmon easily.
Add the salmon, curved side down, cover and bring to a simmer.
Simmer slowly, bubbles barely breaking the surface, for 15 minutes, carefully turning the salmon half way through.
At this point salmon should be cooked through, flesh opaque.  If not simmer another 3 - 5 minutes.
Remove from heat and let rest, covered until ready to serve.

Peanut Sauce:

Combine all ingredients in a small bowl and whisk until smooth.

To serve:

Remove salmon to plates, spoon sauce over and serve.
Day 2:

Cornish Game Hens with Herb Sauce

Total time: 1 hour 10 minutes
    Small, perfectly roasted hens make an elegant presentation for individual servings (with maybe a snack leftover).   Remember to put bowls for bones on the table - and wet towels for fingers.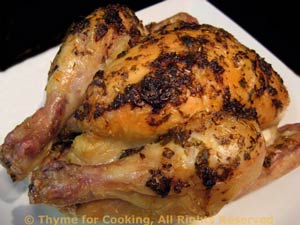 Ingredients:
2 Cornish Game Hens, poissin or little, individual chickens 

or 1 small whole chicken

2 tbs soft butter
1 1/2 tbs dried tarragon
1 1/2 tbs dried summer savory
1 1/2 tbs dried thyme
1/2 tsp salt
2 tbs olive oil
Herb Sauce:
1 tbs butter
1 shallot
1/2 tsp dried tarragon
1/2 tsp dried thyme
1/2 tsp dried savory
1 tbs flour
1/2 cup (4oz, 120ml) dry white wine
1/4 cup (2oz, 60ml) chicken stock
1/3 cup (3oz, 90gr) Greek yogurt, crème fraiche, or sour cream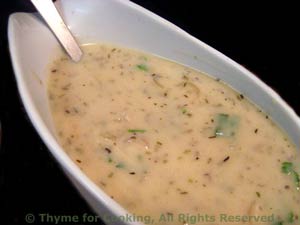 Instructions:
Wash hens and pat dry with paper towels.
Mix 1 tbs butter with 1 tbs each of tarragon, thyme and savory.
Divide herb mixture and put half into each of the hens.
Tie legs close and bend wings around and under the back - so it looks like they are lying there with their arms akimbo.  It keeps them from flapping and gives the hen something to rest on.
Lay them on a rack in a shallow baking pan. 
Rub the remaining 1 tbs butter over the hens and sprinkle the remaining 1/2 tbs of each herb and the salt over the top.
Put into 400F (200C) oven and bake for 30 minutes.
Pour 1 tbs oil over each hen and bake 20 - 30 minutes longer or until done.  I recommend the thermometer...
Herb Sauce:
Finely chop shallot or leek.
In medium saucepan sauté shallot and herbs in butter until shallot is tender.
Add flour and stir constantly for 1 minute with a whisk.
Slowly add wine stirring constantly to thicken.
Add stock and heat, stirring, to boiling.
Add yogurt and serve.
Day 3:

 Mushroom, Pimento and Chicken Lasagne

Total time: 50 minutes
   A layer of sautéed mushrooms, a layer of crushed tomatoes and one of shredded chicken and sliced red peppers makes this is a colorful lasagne with surprise flavors in each bite.
 Ingredients:
leftover Cornish hen or 1 chicken breast, boneless, skinless
3/4 cup (6oz, 180ml) chicken stock or water
8oz (240gr) mushrooms
3 - 4 shallots, 6oz (180gr)
1 tbs olive oil
2 tbs chicken stock
2 cups (15oz, 450gr) chopped tomatoes
6oz (180gr) pimientos, roasted red peppers
2/3 cup (5oz, 150gr) Greek yogurt
3/4 cup (3oz, 90gr) shredded cheese
3 tbs butter
1/4 cup flour
2 cups (16oz, 480ml) milk
12 - 15 sheets 'no-cook' lasagna noodles
1/3 cup (1.5oz, 45gr) grated Parmesan
 Instructions:
Day 4:

 Pork Chops with Mustard and Garlic

Total time: 30 minutes
     The chops are browned first and get fork-tender in no time when gently braised.   I prefer thinner, boneless chops for this skillet dish. They stay tender and moist, and the reduced sauce makes this a lovely main course.
 Ingredients:
2 - 4 boneless pork chops, 12oz (360gr) total weight
2 tbs whole grain mustard
4 cloves garlic
3 tbs parsley, fresh or dried
1 tbs olive oil
1/4 cup (2oz, 60ml) chicken broth
 Instructions:
Mince garlic and parsley together.
Stir into mustard, making a thick paste.
Heat oil in nonstick skillet.  Add chops and brown on both sides, about 10 minutes total.
Spread half of the mustard on the chops, turn, spread the rest of the mustard on the other side.
Add chicken stock, cover and simmer for 10 - 12 minutes over low heat, turning chops once.
Remove chops, top with any sauce left in the skillet and serve.
Day 5:

 Chicken Breasts with Mushrooms and Chevre  

Total time: 30 minutes
    This is a quick pan sauce, thickened with creamy goat cheese.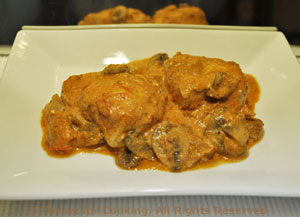 Ingredients:
2 chicken breasts, boneless, skinless
1 small onion
4oz (120gr) mushrooms
1/2 tsp chili powder
1/2 tsp oregano
1 tbs Worcestershire
2oz (60gr) soft goat cheese, chevre, 

about 1/3 carton

1 cup (8oz, 240ml) tomato sauce
2 tsp olive oil
 Instructions:
Clean and thickly slice mushrooms. 
Roughly chop onion.
Heat oil in medium nonstick skillet.
Add chicken breasts and brown on both sides, about 7 minutes total.  Remove.
Add onions, mushrooms, chili powder, Worcestershire sauce to pan and sauté 5 minutes.
Return chicken to pan, add tomato sauce, oregano, cover, turn heat to low and simmer 15 minutes, until chicken is cooked through.
Remove chicken and cover with the pan lid to keep warm. 
Add goat cheese to skillet, stirring well to melt and combine.
Spoon mushroom sauce over chicken and serve.
Day 6:

 Potato, Ham and Broccoli Gratin

Total time: 1 hour 10 minutes 
    A bit of cutting and slicing, add flour and cover with milk and cheese.  What could be easier?  An hour later a dinner, piping hot and creamy, pops out of the oven, ready to serve.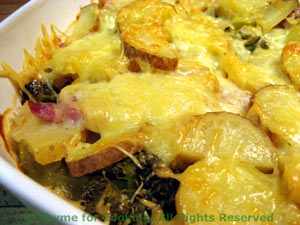 Ingredients:
 Instructions:
Cut broccoli into small florets, including stems.
Cut the onion in quarters then slice thinly.
Slice the potatoes 1/8 inch (.3cm) thick.
Cut ham into 1 inch (2.5 cm) squares.
Put the broccoli, potatoes, onions and ham into a large bowl.  Sprinkle with flour and toss to coat as evenly as possible.
Put the whole lot into a large glass baking dish.
Whisk the milk and mustard together and pour carefully over the vegetables.
Sprinkle with the cheese.
Cover and bake at 400F (200C) for an hour or until the potatoes are done.
Uncover for the last 10 minutes to brown the cheese.  Serve.
You could bake it for 90 minutes at 350F (175C) if you like.