Main Course Menu Plan: Week 12 
Winter I
Day 1:

Salmon, Smoked Salmon and Potato Gratin

Total time: 55 minutes 
    A mix of fresh and smoked salmon gives a lot of flavor to this simple gratin.  Simmering the potatoes in milk shortens the baking time.
 Ingredients:
2 medium potatoes,  10oz (300gr)
1 cup (8oz, 240ml) milk
8oz (240gr) fresh salmon
3oz (90gr) smoked salmon   

either wet or dry smoked

1/2 tsp dried dill weed
1/3 cup (3oz, 90gr) Greek or plain yogurt
1/2 cup (2oz, 60gr) Cheddar cheese, shredded
 Instructions:
Day 2:

Braised Chicken with Rice 

Total time: 2 hours 30 minutes 
     This is a classic in farm houses through out France!  Find an older, stewing hen, if you can.  They have more flavor and the long cooking time will make them tender.  Not a roasting hen, they're too big to fit into most pots. A broiler/fryer will work as well. This will be enough for 2 meals.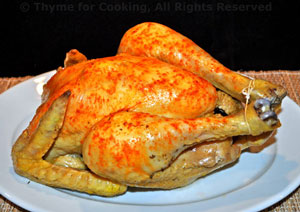 Ingredients:
1 whole chicken
1 onion
3 medium carrots
2 cups (16oz, 480ml) white wine
1 cup (8oz, 240ml) chicken stock
2 bay leaves
1 bouquet garni
1/2 tsp paprika
1 tbs olive oil
2 tbs cornstarch dissolved in 2 tbs water
Rice
1/2 cup (3.3oz, 95gr) Basmati rice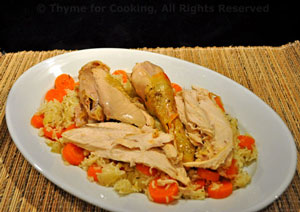 Instructions:
The Chicken

Chop onion.
Peel and cut carrots in half the long way (I cut them the in half the short way first - it makes it easier).  Then slice the carrots into 1/4" (.6cm) half circles (the short way).
Heat oil in a pot or Dutch oven large enough to hold the chicken.
Add the chicken and brown lightly on all sides.  Remove. 
Add onion and carrots and sauté 5 minutes, just until the onion starts to get tender. 
Place the chicken on top of the onion and carrots.
Add the wine, stock and herbs. 
Sprinkle chicken with paprika.
Cover and simmer over low heat (you want small bubble breaking the surface) for 2 1/4 hours.
20 minutes before chicken is done start the rice.
The rice
Using a small ladle remove 1 cup of liquid from the chicken.
Put it into a saucepan along with the rice. Don't worry if you get a bit of onion with the stock.
Cover and cook over low heat until rice is done.
To finish
Remove the chicken.
With a slotted spoon remove all of the carrots to a large bowl. 
Dissolve cornstarch in water. 
Turn heat up under the stock remaining in pot.  Add cornstarch and thicken.
Add the rice to the carrots and combine.
Spoon the rice and carrots onto a platter.
Slice the chicken and arrange on the rice. 
Serve, gravy on the side.
Day 3:

 Pasta alla Amatriciana

Total time: 30 minutes 
    This is a classic Italian dish, with probably as many variations as there are Italian cooks.  Mine comes from a combination of cook books blended with what I like. Make it as hot as you like.
Ingredients:
fresh linguini, or similar, 8oz (240gr) or 4oz (120gr) dry
4oz (120gr) lean bacon
1 small onion
2 cloves garlic
1/2 tsp dried basil
1/2 tsp dried oregano
1/3 cup (3oz, 90ml) red wine
15oz (450gr) plum tomatoes
1/4 - 1/2 tsp red pepper flakes, 

optional

1/4 cup (1oz, 30gr) Parmesan cheese plus more for sprinkling
 Instructions:
Cook pasta according to package directions.
Chop onion and mince garlic.
Drain tomatoes, reserving juice, and roughly chop.
In medium skillet sauté bacon until just starting to crisp.  Remove and set aside.
Drain all but 1 tbs fat from pan.
Add onion, garlic and sauté until tender. 
Add chopped tomatoes with their juices, wine and herbs.
Tear bacon into chunks and add to skillet.
Cover and simmer for 15 minutes. 

To finish:

Drain pasta and toss with Parmesan, then sauce and serve with more Parmesan on the side.
Day 4:

 Peppered Pork Tenderloin in Red Wine Sauce

Total time: 30 minutes
    Remember that, while adding a lot of flavor, pepper can be quite hot.  Be a bit careful, particularly if you are grinding fresh peppercorns, as these will be hotter than the old stuff in the can in your pantry....
Ingredients:
12oz (360gr) pork tenderloin
2 tsp olive oil
1 clove garlic
1/2 - 1 tsp ground black pepper
2 tsp Dijon-style mustard
1 tsp tomato paste
1 tsp marjoram
1/2 cup (4oz, 120ml) beef stock
1/2 cup (4oz, 120ml) red wine
 Instructions:
Mince the garlic.
Slice the tenderloin into 1 inch (2.5 cm) thick slices.
Sprinkle the pepper evenly over each side of each piece, pressing it in. 
Heat oil in nonstick skillet over medium heat.  Add the pork and sauté for 5 minutes per side.
Add garlic, marjoram, mustard, tomato paste, stock and red wine to pan, reduce heat to low, cover and simmer 10 minutes.
Uncover and remove pork to a small platter, cover to keep warm.
Increase heat and boil sauce, for 2 minutes.   It should reduce and thicken a bit.
Spoon a bit of sauce over the pork and serve, remaining sauce on the side.
Day 5:

 Beef and Mushroom Lo Mein

Total time: 30 minutes
     One of the tenants of most Asian cuisines is that the food should be attractive: pleasing to the eye as well as the palate.  One way to achieve this is to make certain that your ingredients are colorful; another is to cut the ingredients into varied shapes.  This Lo Mein is as delicious as it is pretty.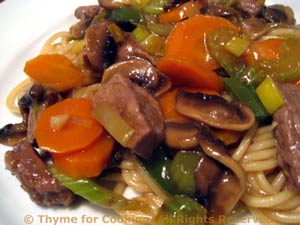 Ingredients:
 Instructions:
Cook pasta according to package instructions. 

While pasta water heats:

Cut the beef at an angle across the grain into bite-size strips. 
Mix sesame oil with 1 tsp soy sauce.  Toss with beef and set aside to marinate.
Clean and thinly slice leeks.
Mince garlic.
Mince ginger (peel first).
Cut the pepper into matchsticks.
Slice the celery thinly, at an angle.
Slice carrot into thin rounds.   
Clean and thickly slice the mushrooms. 
When water boils, cook pasta

While pasta cooks: 

Heat 1 tsp olive oil in large nonstick skillet over medium-high heat.
Add mushrooms and sauté 3 - 5 minutes, until they start to brown.  Remove to a plate and set aside. 
Add 1/2 tsp oil and leeks to skillet, stir-fry for 3 minutes. 
Add garlic and ginger, stir-fry another 2 minutes. 
Remove leeks/garlic to plate with mushrooms.
Add 1/2 tsp oil, carrot, pepper, celery to skillet and stir-fry 3 minutes. 
Remove to plate with other vegetables.
Add beef to skillet and stir-fry 3 minutes, until brown.
Return vegetables to skillet.
Add stock and sherry.
Bring to a boil, cover and simmer for 3 - 4 minutes. 

To finish:

Drain pasta.
Dissolve cornstarch in soy sauce.
Uncover skillet and add cornstarch mixture, stirring until thickened.
Put pasta into a large bowl.
Pour beef mixture over top, toss to combine and serve.
Day 6:

 Chicken Creole  

Total time: 30 minutes
      Boneless chicken breasts, cooked with onions, peppers, mushrooms and tomatoes make a quick, healthy, dinner, perfect for midweek. Add Tabasco if you like more heat.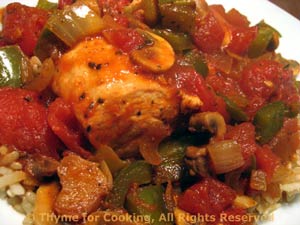 Ingredients:
 Instructions:
Cut chicken breasts in half, the short way.
Cut pepper in half, discarding seeds and top; roughly chop. 
Chop onion.
Mince the garlic.
Clean and slice the mushrooms.
Heat oil in large non-stick skillet over medium heat.
Add the pepper, onion and sauté for 5 minutes.
Add chili powder, garlic, mushrooms and sauté another 5 minutes. 
Push vegetables to the sides of pan and add chicken. Sauté until chicken starts to brown.
Drain tomatoes reserving juice.
Roughly chop tomatoes and add to chicken, along with juices, Worcestershire and herbs.
Cover, reduce heat and let simmer 10 - 15 minutes, until chicken is done. 
Remove bay leaf.

Brown Rice:

Cook rice according to package instructions. Fluff and serve.

To finish:

Put rice on a small platter, spoon Creole over and serve.