Main Course Menu Plan: Week 3 
Winter II
Day 1:

Tilapia with Lemon Butter

Total time: 15 minutes
    Any nice filet of white fish would be good: walleye, sole, catfish, cod, snapper, for this simple dish. The Lemon Butter needs to be made at the last minute - but it's quick.
 Ingredients:
2 nice fish fillets: tilapia, snapper, flounder, walleye,  

4 if they are small 

12oz total weight  (360gr)
1 tbs butter
1 tbs lemon juice
1/2 tsp Dijon-style mustard
olive oil - 1/2 tsp
Lemon Butter:
1 tbs lemon juice
2 tbs white wine
2 tbs cold butter
 Instructions:
Put fish fillets on a lightly oiled baking sheet. 
Melt 1 tbs butter.  Stir in 1 tbs lemon juice and mustard. 
Brush on fish. 
Bake, 375F (185C) for 12 - 15 minutes, depending on thickness, until fish is done.  It should be opaque and flake easily with a fork.
Lemon Butter:
Heat lemon juice and white wine in a small saucepan over low heat or in glass cup in microwave. 
Remove the from heat and stir in the 2 tbs butter, 1 tbs at a time.  The butter should soften and the sauce get creamy.  The butter is not supposed to melt and separate. 

But if it does, the flavor will be just as good.... .

  

Spoon Lemon Butter over fish and serve.

  
Day 2:

Pork Chops with Spanish Rice 

Total time: 40 minutes
   I use brown rice in this dish.  Mine cooks in 20 minutes and I like the healthy aspect and nutty flavor of brown rice.  You could substitute Basmati, Arborio, or plain white rice.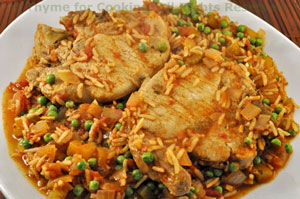 Ingredients:
2 - 4 pork chops, depending on size,  (12oz, 360gr boneless, 16oz, 480gr bone-in)

1 onion
1/2 green pepper
1 rib celery

optional

2 cloves garlic
2 tsp chili powder
1/2 cup (3.3oz, 95gr) brown rice, quick-cooking
1 3/4 cup (15oz, 450gr) whole tomatoes
1 cup (6oz, 180gr) frozen peas 

no sauce

1 tsp Worcestershire sauce
2 tsp olive oil
water or chicken stock, 1/4 - 1/2 cup
 Instructions:
Chop onion, celery and green pepper. 
Mince garlic. 
Heat oil in deep skillet or Dutch oven over medium high heat. 
Add pork chops and brown on both sides, about 5 minutes each.  Remove. 
Add chili powder, onion, pepper, celery and garlic.  Sauté for 5 minutes. 
Open tomatoes and drain into a bowl. 
Chop the tomatoes and drain again. 
Add drained tomatoes, Worcestershire sauce and rice to pan.
Measure the drained liquid and add enough water or chicken stock to equal 1 cup (or however much liquid your rice package calls for). 
Pour this over the rice/vegetables in the skillet and stir well to combine. 
Lay the pork chops on top of the rice and cover. 
Reduce heat to simmer and cook until rice is done.  Stir occasionally while cooking. 
When the rice is almost done, stir in peas. 
Serve from the skillet.
Day 3:

 Moroccan Chicken Stew

Total time: 45 minutes
   This is a simple tagine, or stew with the flavors of a North African souk.  Add harissa or other hot sauce to taste. If you can't find a small - medium sweet potato, skip the white potato and use 1 large sweet potato.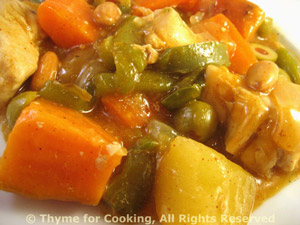 Ingredients:
2 chicken breasts, boneless, skinless
1 medium onion
1/2 green bell pepper
1 medium potato
1 medium sweet potato
1 medium carrot
1 tsp paprika
1/2 tsp cumin
1/4 tsp cinnamon
1 1/2 tbs minced ginger
3 cloves garlic
1/3 cup green olives
1/3 cup almonds
1 tbs olive oil
1 cup (8oz, 240ml) chicken broth
2 tsp cornstarch (maizena) dissolved in 2 tbs water
 Instructions:
Cut chicken into 2" (4cm) pieces.
Slice onion.
Cut carrot and pepper into sticks.
Mince garlic and ginger.
Cut white and sweet potato into large chunks.
Heat oil in large saucepan over medium-high heat. Add paprika, cumin, cinnamon, onion, pepper, carrot and sauté until onion is tender, about 7 minutes.
Add garlic, ginger, chicken and lightly brown. 
Add chicken stock, both potatoes, cover and simmer until vegetables are done, 25 - 30 minutes.  Pierce vegetables with a fork or sharp knife to check.
Dissolve cornstarch in water.
 Uncover saucepan, increase heat and add cornstarch, stirring until sauce is thickened.
Stir in olives, almonds and serve.
Day 4:

 Turkey with Mustard Sauce, Pasta

Total time: 25 minutes
   The spicy mustard combines with the Greek yogurt for a creamy, savory sauce.  Serve over any pasta or rice.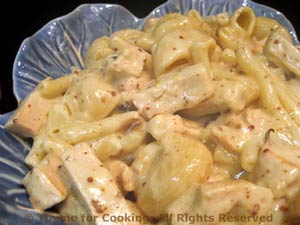 Ingredients:
10oz (300gr) turkey cutlets or breast meat
4 large shallots
3/4 (6oz, 180ml) cup chicken broth
2 tbs course grain mustard
1/2 tbs cornstarch (maizena) dissolved in 1 tbs water
1/2 cup (4oz, 120gr) Greek yogurt, plain yogurt or crème fraiche
1 1/4 cups (4.2oz, 125gr) pasta
 Instructions:
Cook pasta according to package instructions. Drain.
Peel and thickly slice the shallots.
Cut turkey into bite-size pieces.
Heat olive oil in large nonstick skillet and sauté shallots for 5 minutes. 
Add turkey and sauté until cooked through, another 6 - 8 minutes. 
Add mustard and stock, heat through. 
Dissolve cornstarch in water and stir into pan. Continue stirring until quite thick. 
Remove from heat, add yogurt, mix thoroughly. 
Put the pasta in large pasta bowl, spoon the turkey over and serve.
Day 5:

 Standing Rib Roast with Yorkshire Pudding and Horseradish Sauce

Preparation and cooking time: 
                 60 - 90 minutes, 20-25 minutes per pound for medium rare. You need a meat thermometer
     You can get a rib roast small enough for 2... with leftovers.  We used to get a 1 - 2 rib roast. If it won't 'stand' just put it on a meat  rack.  I have no photo as this was our dinner when we lived in the US. Prime rib is not easy to find where we live now.

 Ingredients:
1 standing rib roast (also know as Prime Rib), small, 32oz (1000gr)
1 tsp thyme
1/2 tsp garlic powder
1 tbs Worcestershire sauce
 Instructions:
The Beef: 
Drizzle Worcestershire over entire roast. 
Rub with thyme and garlic. 
Either stand roast or lay it on a rack in a baking pan.  Insert meat thermometer.  If using one that has a temperature alarm set it for 125F (52C) for rare, 130F (55C) for medium rare, 140F (60C) for medium.
Put into 425F (215C) oven. 
When alarm goes off or thermometer registers 125F (52C) (or whatever temp you choose) remove from oven and cover securely with foil to keep warm and allow to rest for 30 minutes.  It will continue to cook another 5 degrees or so while resting, bringing it up to the perfect temperature. 
When it is done resting, (the resting is important if you want nice, juicy beef - and to make the Yorkshire Pudding) slice and serve.
The Yorkshire Pudding: 

see below for recipe

When temperature reaches 115 start to make Yorkshire Pudding; temporarily removing roast to get the drippings. 
Put Pudding in oven when beef is done. 
Yorkshire Pudding
Total time: 35 minutes
     This a bit tricky with a small roast; it is supposed to be made with the fat from the roast but there may not be enough from a small roast. Here is how I manage: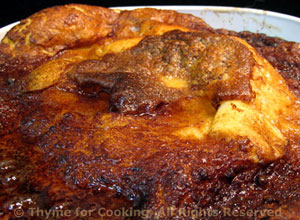 Ingredients:
1 cup (4.5oz, 135gr) flour
1 cup (8oz, 240ml) milk
2 eggs
1/4 tsp salt
2 tbs beef drippings or butter or combination
2 tbs beef stock
 Instructions:
In medium bowl whisk the eggs. 
Add the milk, flour and salt; whisk. 
Let rest 10 - 30 minutes. 
Put drippings/butter and stock in a baking dish.  I use a 10 inch (25cm) square. 
When beef is almost ready to come out, heat the baking dish in the 425F (215C) oven (the same as for roast) until butter is melted. 
Remove and pour in pudding batter. 
Immediately take beef out and put pudding in.  Oven door should not be opened while pudding bakes. 
Bake 20 minutes. 
Reduce heat to 375F (190C) and continue baking 12 - 15 minutes more, until golden and puffed up. 
Remove and serve immediately.
Horseradish Sauce
Time: 10 minutes
     Crème fraiche can be whipped - and gives a lovely, slightly tangy flavor to the sauce.  If you can't get it, substitute regular heavy whipping cream.
 Ingredients:
1/2 cup (4oz, 125ml) crème fraiche
1 tbs prepared horseradish
1 tsp dried tarragon
1 tsp dried thyme
 Instructions:
Put the crème fraiche into a large bowl and whisk until soft and fluffy... maybe even some soft peaks. 
Whisk in horseradish and herbs. 
Refrigerate until needed.
Day 6:

 Baked Ham with Mustard Sauce

Total time: 1 hour 45 minutes
      A fully cooked ham should be baked to an internal temp of 140F (60C), about 20 minutes per lb. A ham that must be cooked should reach an internal temp of 150F (65C), 35 minutes per lb. for small hams and 22 minutes for larger (over 5 lbs) hams.  All times assume a 325F (165C) oven.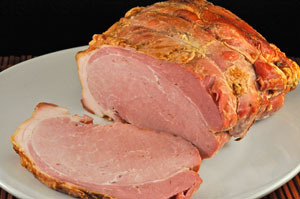 Ingredients:
1 small ham, about 4 lbs (2000gr)
1 cup brown sugar
1/2 tsp dry mustard
1 tbs red wine vinegar
 Instructions:
Put ham on rack in roasting pan and roast in 325F (165C) oven. 
About 30 minutes before it's done mix the sugar, mustard and vinegar. 
Remove the ham from the oven. Remove the skin if there is any, score the fat with a sharp knife (diamond pattern is pretty). 
Pat the brown sugar mixture over the top of the ham and return to oven.  Finish baking.
Remove ham and allow rest for 15 - 20 minutes before slicing.
Mustard Sauce
  Time: 10 minutes
    A timeless tradition in my large, extended family.  The original recipe came from "The Anderson House", a small family run hotel in my home town. For some, it's the only reason to have ham!  Can be made ahead.
 Ingredients:
1/4 cup sugar
1/4 cup (2oz, 60ml) milk
1/4 cup (2oz, 60ml) cider or white vinegar
2 tbs dry mustard
1 egg
pinch salt
2 tbs butter
 Instructions:
Note:  if you don't have a double boiler, put a metal bowl on a saucepan partially filled with water.  The bottom of the bowl should not touch the water.