Main Course Menu Plan: Week 12 
Summer I
Day 1:

Grilled Cod with Caper, Green Olive Tartar Sauce

Total time: 25 minutes 
   I get a long piece of cod 'back' that is without bones and perfect for grilling.  Cut it in half for easier handling and serving.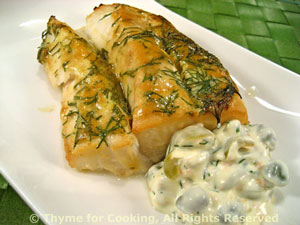 Ingredients:
1 - 2 filets of cod, or other thick, firm white fish, 12oz (360gr) total weight

1 tbs white Balsamic vinegar
1 tbs Dijon-style mustard 
1 tbs olive oil
2 tsp dill weed
Caper, Green Olive Tarter Sauce:
8 green, pimiento stuffed olives   about 2 tbs chopped
1 tbs capers
2 tsp dill weed
3 tbs Greek or plain yogurt or all mayonnaise
1 tbs mayonnaise
2 tsp lemon juice
 Instructions:
Cod:
In a small bowl whisk together the vinegar, mustard, oil and 2 tsp dill weed.  Spoon over the cod. 
Cook on barbecue grill, covered or partially covered, 14 - 18 minutes, without turning.
OR put on baking sheet and roast in 400 F oven for 15 - 20 minutes, depending on thickness. 
It will be opaque and flake easily with fork when done. 
Caper, Green Olive Tarter Sauce:
Chop olives and capers if the are large.
Put all ingredients in a small bowl and stir to combine.
When the fish is done, transfer to a small platter and serve, Caper, Green Olive Tarter Sauce on the side.
Day 2:

Teriyaki Turkey Kebabs

Total time: 45 minutes
    Do the longer-cooking vegetables on separate skewers so everything is done at the same time.  These kebabs have an oriental flavor and are served with Warm Peanut Sauce rather than Yogurt Sauce.
 Ingredients:
10oz (300gr) turkey tenderloin
8 large cherry tomatoes
8 large button or cremini mushrooms
1 medium zucchini (courgette), about 8" (20cm)
1 large red onion
1 orange or red bell pepper
3 - 4 tbs Teriyaki sauce/marinade
8 skewers, if wooden soak in water
Warm Peanut Sauce:
1/3 cup peanut butter
2 tbs snipped fresh chives
1 tbs snipped fresh parsley
1 tsp chili powder
1 tsp sesame oil
1 tbs olive oil
2 tsp soy sauce
2 tsp lemon juice
1 tsp brown sugar 
1/3 cup chicken stock
 Instructions:
Cut turkey into chunks, put into a bowl with the Teriyaki sauce. Stir to coat. 
Cut pepper in half, then each half into 4 squares.
Cut onion into 6 or 8 wedges.
Clean mushrooms.
Slice zucchini into 1/2" (1.25cm) slices.
Add pepper, mushrooms, onions and zucchini to bowl with turkey and stir gently. 
Let marinate 15 - 60 minutes.
When ready to cook:
Put turkey, mushrooms and tomatoes onto 4 skewers, alternating.
Put peppers, onions and zucchini on the other 4 skewers, alternating.
Start to cook the vegetable-only skewers first, over indirect heat with the cover closed. 
After about 7 minutes, lift cover and turn vegetables, moving over direct heat.
 Add turkey skewers over direct heat.
 Cook for 6 - 10 minutes, or until turkey is done. 
Warm Peanut Sauce:
Heat oils in small saucepan.
Add chives and chili powder and sauté briefly.
Add remaining ingredients and bring to a boil, stirring well to combine.
Remove from heat and cover to keep warm.
Sesame Couscous
Total time:

15 minutes
Sesame seeds and oil put a different twist on the standard couscous. Show with Turkey Kebabs.
 Ingredients:
1/2 cup (3oz, 90gr) couscous
3/4 cup (6oz, 180ml) chicken broth
2 tsp peanut butter
2 tsp toasted sesame seeds
2 tsp sesame or walnut oil
 Instructions:
Heat chicken broth and peanut butter to boiling, stirring to combine.
Put couscous in a bowl. 
When broth is boiling pour over couscous, cover and let stand for 10 minutes... Do

not

stir it.
Uncover, add sesame seeds, sesame oil, fluff gently with a fork to combine and serve. 
To toast sesame seeds:  Put them into a dry, nonstick skillet over medium heat.  Toss or stir them about in the pan until lightly golden, about 5 minutes.
Day 3:

 Zucchini (Courgette) and Tomato Pastry

Total time: 45 minutes

    Using puff pastry rather than a traditional pizza crust gives a much lighter aspect to this, late-summer pastry.  Cut everything very thinly, with a knife or food processor, 1/16th inch (.3cm), and don't be too generous with the cheese. Scoring a line around the edge of the pastry will help it puff up.
 Ingredients:
1 red onion
1 tsp dried thyme
2 tsp olive oil
1 courgette (zucchini), medium, 7 - 8 inches (20cm)  

you may not use it all...

2 tomatoes
6oz (180gr) deli or baked ham or smoked turkey, sliced thinly  

like for a sandwich, not paper thin

3oz (90gr) shredded cheese
2 tbs Parmesan
1 sheet puff pastry
 Instructions:
Lay the puff pastry out on a baking sheet. 
With a dull knife (butter knife) lightly score a line around the pastry, 1/2" (1.25cm) from the edge, being careful not to cut all the way through. If your pastry is frozen you may have to wait until it thaws a bit.
Chop onion. 
In a medium skillet sauté onion in oil until tender, about 7 minutes. 
Add thyme and stir to combine. 
Remove from heat until needed. 
Thinly slice zucchini
Thinly slice tomatoes, about 1/16th" (.3cm).  You should get 8 - 10 slices from each tomato.  
Cut the ham into strips.
To assemble:
Spread the onion on the puff pastry, staying inside the scored line.
Lay the zucchini slices on top in 2, slightly overlapping circles.
Spread the ham on top of the zucchini.
Lay the tomatoes on top of the ham, touching, but not overlapping.
Sprinkle with shredded cheese and Parmesan.
Bake, 420F (210C) until edges of the crust are golden and vegetables are tender, 25 - 35 minutes. 
Remove. 
If zucchini has given off much liquid, score a slit in the edge and tilt slightly to drain. 
Cut into wedges and serve.
Day 4:

 Mushroom Burgers

Total time: 20 minutes
    Flavorful burgers, filled with chopped mushrooms, are served with sautéed mushrooms and onions.  We normally eat burgers with a fork and a glass of red.  Feel free to have them on a bun with a Mountain Dew. 
 Ingredients:
12oz ground beef (360gr mince)
4oz (120gr) mushrooms, divided
1 onion
4 tsp Worcestershire sauce, divided
1/2 tsp garlic powder
1 tsp paprika, divided
2 tsp olive oil
 Instructions
For the burgers: 
Finely chop 1oz (30gr) trimmed mushrooms.
Combine mushrooms, 2 tsp Worcestershire sauce, garlic powder, 1/2 tsp paprika and beef.  Mix well. Form into 3 or 4 patties. 
Cook on barbecue grill over direct heat for 3 - 5 minutes per side, using a basket, grill pad or pan if you have one, it's easier. 
Or sauté in a nonstick skillet for the same amount of time.  
For the mushrooms:
Trim and thickly slice mushrooms. 
Thickly slice onion. 
Heat 2 tsp oil, 2 tsp Worcestershire sauce and 1/2 tsp paprika in a medium nonstick skillet over medium heat.  Add mushrooms, onions and sauté until nicely glazed, stirring and turning frequently, about 10 minutes.
To finish: 
Spoon sautéed mushrooms and onions over burgers and serve - on a bun or not.
Day 5:

 Marinated Chicken Breasts, Grilled

Total time: 30 minutes
   This is a simple marinade made with ingredients found in most pantries.  The chicken is great as is, but will also be good tossed with salads or pastas.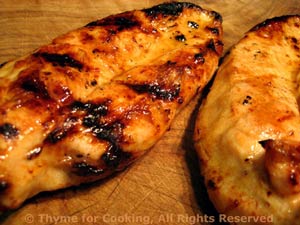 Ingredients:
2 chicken breasts, boneless, skinless
1 tbs Worcestershire sauce
3 tbs red wine vinegar
3 tbs olive oil
1/3 tsp garlic powder
1/2 tsp oregano
 Instructions:
In small bowl whisk together Worcestershire, vinegar, oil, garlic and oregano. 
Pour over chicken and let marinate for 15 - 20 minutes or up to 2 hours.
Cook on barbecue grill for 8 - 12 minutes per side or until done (test - take a peak), basting with any leftover marinade before turning.

OR

sauté in nonstick skillet for 8 - 10 minutes a side until nicely browned and done, basting with marinade.
Slice if you like and serve.
Day 6:

 Zucchini (Courgette) Stuffed with Sausage and Couscous

Total time: 40 minutes 
     The zucchini are partially cooked while the stuffing is made, so they only need to be baked to finish - and melt the cheese.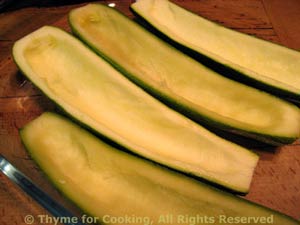 Ingredients:
 Instructions:
The zucchini: 
Cut zucchini in half the long way.  With a small spoon scrape out the seeds and flesh from the center forming long boat-like shells.  Leave 1/4" (.6cm) at either end to hold in the filling. 
Put them in a baking dish, single layer, cover with foil and bake, 400F (200C), for 15 minutes. 
Remove and keep covered until ready to fill.
The couscous:
Heat chicken broth to boiling. 
Put couscous in a bowl, pour chicken stock over and cover.  Do not stir. 
Let sit, covered, for 10 minutes.
The stuffing: 
Chop onion and pepper. 
Mince garlic. 
Heat olive oil in nonstick skillet over medium-high heat.  Add chili powder, cumin, and sauté briefly. 
Add onion, pepper and garlic, sauté until tender, about 5 minutes.
Add sausage to skillet and cook, breaking it up as it browns.
Add tomato sauce, Worcestershire, oregano and heat through.
Add couscous, stir to combine and remove from heat. 
The finish:
Spoon filling into the zucchini shells.  Any filling that doesn't fit, just keep warm and serve on the side.
Cover zucchini with foil and bake for 15 minutes. 
Remove, uncover, sprinkle with cheese and bake 5 minutes longer.
Serve, leftover filling on the side.