Main Course Menu Plan: Week 9 
Summer I
Day 1:

Salmon Salad with Spanish Rice, Pimento Dressing

Total time: 40 minutes 
   This is a layered salad, with tomato-infused brown rice, shredded, fresh zucchini and roasted or grilled salmon, finished with a red pepper dressing. If you use quick-cooking Brown Rice it all goes together fast.  Everything can be cooked ahead and assembled just before serving.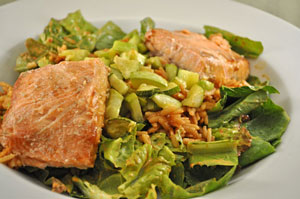 Ingredients:
For the salmon:
2 salmon filets, 12oz total (360gr)
1 tbs fresh parsley
1 tbs fresh tarragon
1/4 tsp salt
1 tbs olive oil
For the Spanish Rice:
1/3 cup (2.2oz, 65gr) brown rice, quick cooking
2 tbs chopped onion
1 clove garlic, minced
1 tomato
1 tbs olive oil
2/3 cup (5oz, 150ml) chicken stock
For the Zucchini:
1 small zucchini (courgette) - about 7 inches long (15cm)
2 tsp olive oil
Dressing for the Salad:
2oz (60gr) pimiento (pimento) or roasted red peppers    'net weight' of the pimento, not including the liquid
1/4 cup (2oz, 60gr) plain or Greek yogurt
1/4 cup (2oz, 60gr) mayonnaise
1 tbs fresh chopped oregano
1 tbs fresh snipped chives
1 tbs lemon juice
1 tbs good olive oil
For salad
lettuce for main course salad for 2 people
 Instructions:
For the salmon:
Snip the parsley and tarragon. 
Mix herbs with the salt, oil and spread on the salmon.
Bake at 400F 200C) for 15 minutes, or until done. 
Remove and set aside. 
Could also be done on the barbecue grill for about 10 minutes. If done earlier in the day, refrigerate until ready to use.
For the Spanish Rice:
Finely chop onion and mince garlic.
Roughly chop tomato. 
Heat oil in small saucepan.  Add onion and sauté until transparent. 
Add garlic and rice and sauté 2 minutes. 
Add chicken stock and tomato, cover, reduce heat and simmer until rice is done (package directions). 
Uncover, fluff with a fork and set aside - if done earlier in the day, refrigerate until ready to use.
For the zucchini:
Quarter the zucchini the long way, then slice.
Sauté the zucchini in oil just until softened and tender.
Dressing for the Salad:
Snip/chop herbs. 
Drain pimento. Put pimento, yogurt into a blender and purée. 
Pour the yogurt mixture into a small bowl.  Add the mayonnaise, lemon juice, olive oil and herbs, stir to combine. 
To Finish:
Prepare lettuce, tear and put in large bowl. 
Add 4 tbs dressing and toss well.  Divide and put in 2 flat salad bowls or on 2 plates.
Fluff the rice, divide and spread on the lettuce. 
Put the zucchini on top of the rice. 
Cut the salmon into 4 nice pieces, divide and arrange on zucchini. 
Serve with more dressing on the side.
Day 2:

Vitello Tonnato 

Cold Veal in Tuna Sauce

Total time: 20 minutes     plus at least 2 hours resting time 
     This is properly made with a veal roast that is braised for hours, then sliced thinly and served with the sauce.  This is my shortcut version.... Summer cooking!  I've included the traditional Tonnato Sauce as well as a version using commercial mayonnaise rather than the raw egg. 
 Ingredients:
veal scallops, sliced thinly, 10oz (300gr)
3/4 cup chicken stock

Tonnato Sauce,

mayonnaise version

6oz (180gr) canned tuna, packed in oil - the best you can find, 

do not use fresh tuna

1/2 cup mayonnaise
3 anchovy fillets (or the equivalent in anchovy paste), drained and rinsed,

optional

1 1/2 tbs lemon juice
1/4 tsp dry mustard
2 tbs capers, drained
2 - 6 tbs of the poaching liquid
 Instructions:
Heat chicken stock in a medium skillet. 
Add veal slices, a few at a time and poach briefly, until cooked through.  If they are very thin and the stock hot, it should only take a few minutes per slice. 
Remove and cool. 
Reserve stock and allow to cool.

Tonnato Sauce,

mayonnaise version

Put all ingredients, except poaching liquid, into a blender and purée until smooth. 
Pour into a bowl.  Add some of the cool poaching liquid, 1 tbs at a time until the sauce is the consistency of very thick cream. 
Assembling the Vitello Tonnato:
Pour a thin layer of sauce to cover the bottom of a large platter or baking dish. 
Lay the cooled veal slices over the sauce, trying not to overlap.  If you must overlap put a layer of sauce between the meat. 
Pour the rest of the sauce over the veal, smoothing it to cover the veal completely. 

Cover with plastic wrap and refrigerate at least 2 hours, all day is better. 

 

You can garnish the platter with a few cherry tomatoes for color when serving...

 
Tonnato Sauce
Traditional Version
 Ingredients:
 Instructions:
Put 1/4 cup oil, egg, tuna, anchovies, 1 tbs capers, mustard and lemon juice in the blender. 
Cover and blend on high speed a few seconds, until pureed and smooth. 
Remove 'cap' from blender top and, with blender running slowly, drizzle in the rest of the oil. 
Sauce should be thick and smooth and total blending time not more than 10 - 11 seconds. 
Pour into a bowl.  Slowly stir in the cream or milk. 
Add some of the cool poaching liquid, 1 tbs at a time until the sauce is the consistency of very thick cream. 

Stir in the rest of the capers. 

If you prefer you can purée all of the capers - which I did, (albeit, accidentally).
Day 3:

 Barbecued Chicken Thighs

Total time: 35 minutes
   We didn't marinate the thighs but basted with barbecue sauce, like we would for proper Barbecued Chicken. Divide the sauce in half so you have some for dipping.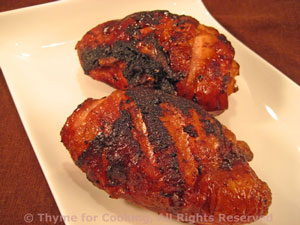 Ingredients:
4 chicken thighs
1 tsp olive oil
salt, pepper
Barbecue Sauce
1/4 cup ketchup
2 tbs red wine vinegar
1 tbs soy sauce
1 tsp cumin
1/2 tsp dry mustard
1/2 tsp paprika
1 tbs olive oil
 Instructions:
Sauce:

  In a small saucepan gently heat all ingredients for barbecue sauce, except oil. 
When warm, remove half of the sauce to a bowl. 
Add oil to the bowl to make the basting sauce.

Chicken:

Rub thighs with oil and sprinkle with salt and pepper. 
Cook thighs on barbecue grill for 25 minutes, turning once or twice. 
Start basting after 10 minutes and baste 2 - 3 times.  They'll be done when they are nicely browned and the juices run clear when pierced with a knife. 
Serve with remaining barbecue sauce on the side.
Day 4:

 Hot and Sweet Glazed Pork Chops

Total time: 30 minutes
    Fresh, chopped ginger adds a better, sharper flavor than the powdered.  Usually you can just break off a small piece at the store.
 Ingredients:
 Instructions:
In small bowl whisk together the ingredients for the marinade - you need to use the whisk to break up the marmalade. 
Pour over chops and let marinate for 10 minutes (or longer...).
Remove from marinade and cook on barbecue 10 - 15 minutes turning once.
Baste with any remaining marinade before turning to give better glaze.  In all cases it depends on thickness of the chops. Test for doneness by slicing and peaking. 
Remove and serve.
Day 5:

 Grilled Chicken Satay with Peanut Sauce

Total time: 35 minutes
   Fresh ginger adds a bit of heat and a lot of flavor to this chicken.  You can substitute 1/2 tsp ground ginger if you don't have fresh; and add more if you like the heat.  For a hotter dish you could add crushed red pepper, Asian chili sauce or even Tabasco to the marinade and/or the peanut sauce.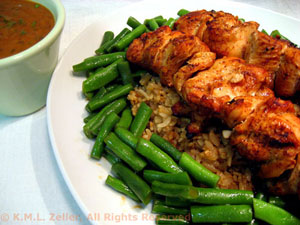 Ingredients:
 Instructions:
Soak skewers in warm water while preparing chicken and making marinade.
Cut chicken breast into long strips, 3 or 4 from each breast. 
Thread the meat the long way onto the skewers, (sort of pleating it). 
Mix the rest of the ingredients in a small bowl. 
Place chicken skewers into a baking dish and pour marinade over.
 Allow to marinade for 20 - 40 minutes. 
When ready, remove from marinade and grill over direct heat for 8 - 10 minutes.  Can also be done under the broiler (grill) for same amount of time. 
Or, you could skip the skewers and stir-fry them in 1 tbs olive oil and 1 tsp sesame oil. 
Serve with

Peanut Sauce

on the side.
Warm Peanut Sauce:
Heat oils in small saucepan.
Add chives and chili powder and sauté briefly. 
Add remaining ingredients and bring to a boil, stirring well to combine. 
Remove from heat and cover to keep warm.
Day 6:

 Cheese Stuffed Burgers, Grilled  

Total time: 15 minutes 
   These can have a chunk of any cheese you like inside.  Try to use something a bit on the firm side so it will stay together and not run out.  I just get a small piece of aged goat cheese at the deli counter. Gouda, Muenster, Colby... any would be good! 
 Ingredients:
12oz ground beef (360gr mince)
3 slices 1/3" thick (1cm), semi-soft cheese - goat cheese, Munster, Port Salut

or any cheese
 Instructions:
Divide beef in half.

Shape one half into 3 patties. 
Put a slice of cheese on top of each patty. 
Divide remaining beef into thirds. 
Make each into a patty and place on top of cheese.  Work edges to seal. 
Oil hinged basket. (A paper towel works well.) 
Place patties in basket and cook on barbecue grill over direct heat for 4 - 5 minutes per side. 

Or

cook directly on barbecue grill. 

Or

sauté in nonstick skillet for same amount of time.  Remove and serve.