Main Course Menu Plan: Week 7 
Spring I
Day 1:

Salmon with Mustard Sauce 

Total time: 25 minutes
    The creamy yogurt takes a bit of the heat and bite out of the hot mustard, giving subtle flavors to the sauce.  We prefer salmon filets.  They may not make as nice of a presentation as steaks but they cook more evenly and are boneless.
 Ingredients:
2 salmon fillets,  12oz (360gr) total weight
2 shallots
2 tsp olive oil
1/2 cup (4oz, 120ml) white wine
1 tbs mustard seeds
2 tbs Dijon-style mustard
1/3 cup (3oz, 90gr) Greek yogurt
1 tsp dried tarragon 
 Instructions:
Finely chop shallots.
Heat oil in a small saucepan over medium heat.  Add shallots and sauté for 5 minutes.
Add wine and mustard seeds and boil, uncovered for about 3 minutes.  Mix should be reduced by about half. 
Add mustard and tarragon and bring to boil. 
Remove from heat.
Remove 2 tbs for basting the salmon.
Stir yogurt into the remaining sauce.  Cover and keep warm.
Put salmon on foil-lined baking sheet.  Spread reserved mustard/wine sauce on top.
Bake at 400 F for 10 - 15 minutes, until top is light brown and fish flakes easily.  It's okay if slightly translucent in the center. 
Serve with

Mustard Sauce

on the side. 
Day 2:

Turkey Rolls Stuffed with Pimiento and Feta

Total time: 40 minutes
    Turkey is a rather bland meat, lending itself very well to be stuffed with bright flavors.  If you can't get thin turkey cutlets, you could use veal cutlets or chicken breasts, pounded thin.
 Ingredients:
 Instructions:
Lay turkey cutlets flat, pounding to thin or even out if needed. 
Lay Prosciutto on turkey.
Lay pimiento strips on Prosciutto, spreading evenly. 
Crumble feta cheese and sprinkle on pimientos. 
Top with herbs.
Starting from one narrow end, roll up and tie securely with kitchen string.
Heat oil in medium skillet.
Add rolls and brown well on all sides.
Add wine, stock, cover and simmer for 20 minutes.
Remove rolls and keep warm.
Increase heat under skillet and add cornstarch mixture, stirring until thickened.
Stir in yogurt and remove from heat.
Remove string from rolls, cut each in half (looks nicer), spoon a bit of sauce over and serve.
Day 3:

 Slow-Roasted Moroccan Leg of Lamb

Total time: 3 hours 30 minutes 
    This is started hot, to brown the crust, then finished slowly.  It remains a lovely rose when sliced... and the crust is fantastic.... The best lamb I've had. This will easily serve 4 - 6.  Add more potatoes. Get a larger leg (and more potatoes) to serve more.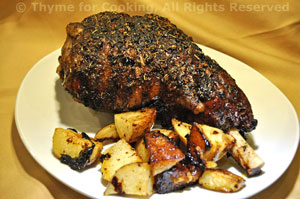 Ingredients:
2lb leg of lamb
2 tbs soft butter
2 tbs olive oil
2 tsp cumin
2 tsp paprika
2 tsp rosemary
3 cloves garlic, crushed
2 medium potatoes  
 Instructions:
Make a paste of the butter, oil, cumin, paprika, rosemary and garlic.
With a sharp knife make slits all over the lamb.
Spread the paste on the lamb, covering it as best you can. 
Roast for 10 minutes at 425F (220C). 
Reduce temperature to 315F (160C) and roast for 3 hours, basting with pan juices every 30 minutes.
45 minutes before lamb is set to be done cut potatoes into large chunks and add to roasting pan, stir to coat with pan juices and continue to roast.

To serve:

Remove lamb and allow to rest for 10 - 15 minutes before carving. 
Put potatoes back into oven, (turn oven off) to keep warm.
When ready, slice lamb, arrange on platter with potatoes.
Day 4:

 Pasta with Lamb and White Beans,

Greek Style

Total time: 25 minutes
     Originally made with leftover lamb, this could as easily be made with fresh ingredients.  The cherry tomatoes and green garlic add a touch of spring, and just enough 'tomato' flavor.  The feta and dry-cured olives add the taste of Greece.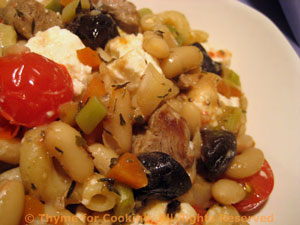 Ingredients: 
2 cups leftover lamb  or raw lamb cut into pieces
1 1/2 cups (12oz, 360gr) white beans 

or 15oz (450gr) can or jar, drained and rinsed

1 carrot
1 rib celery
4 - 5 green garlic,  about 1/2 cup, sliced 

substitute 4 green onions, sliced, and 1 clove garlic, minced

1 cup (4oz, 10gr) cherry tomatoes
3oz (90gr) feta
1/3 cup dry-cured Greek black olives
2 tsp olive oil
1 tsp dried oregano
1/2 tsp dried thyme
1/2 cup (4oz, 120ml) chicken stock
1 1/4 cup (4oz, 120gr) pasta - penne, rigatoni, rotelle
 Instructions:
Cook pasta according to package directions, drain.
Roughly chop carrot, celery.
Cut the lamb into bit-size pieces.
Trim and thickly slice green garlic.
Cut the cherry tomatoes in half.
Cut the olives in half.
Cut the feta into small cubes.
Heat the oil in a large nonstick skillet. 
Add the carrot, celery, (lamb if it's raw) and sauté until tender, about 5 minutes. 
Add the green garlic and sauté 3 minutes longer. 
 Add the cooked lamb, stock, beans, herbs and bring to a simmer. 
Add pasta, tomatoes, olives and feta, heat through.
Serve.
Day 5:

 Chicken Breasts with Red-Eye Gravy  

Total time: 30 minutes 
     It's the coffee that gives the name to this dish.  I use instant as I always have some on hand for caffeine emergencies.  Leftover from morning coffee works just fine - as long as it hasn't been on the burner all day ;-) I usually cut chicken breasts in half before cooking.
 Ingredients:
2 chicken breasts, boneless, skinless
2 tsp olive oil
1 tsp paprika
2oz (60gr)  Prosciutto or bacon

  2 - 3 slices

4oz (120gr) mushrooms
1/2 cup (4oz, 120ml) strong coffee
1 tbs brown sugar
1/4 cup (2oz, 60ml) chicken stock
2 tsp cornstarch (maizena) dissolved in 1 tbs water
 Instructions:
Roughly chop Prosciutto/bacon.
Cut chicken breasts in half.
Heat oil in nonstick skillet over medium high heat.
When hot add paprika and sauté 1 minute. 
Add bacon or Prosciutto and sauté; 2 minutes for Prosciutto, 5 minute if using bacon. 
Add mushrooms and sauté 4 minutes longer.
Move vegetables and bacon to the side and add chicken breasts. 
Sauté 2 minutes per side. 
Add coffee, stock and sugar, bring to a boil, reduce heat, cover and simmer 10 - 15 minutes or until chicken is done. 
Remove chicken (put on a plate and cover with the lid from the pan) and increase heat. 
Add cornstarch dissolved in water and stir until sauce is thick. 
Pour  sauce over chicken and serve.
Day 6:

 Stir-Fried Beef with Snow Peas

Total time: 25 minutes
     Fresh snow peas and cherry tomatoes are great for stir-fries: they cook quickly, add lots of color and get us out of traditional winter fare.
 Ingredients:
 Instructions:
Trim and slice green garlic or mince garlic. 
Slice onion, celery.
Cut carrot into matchsticks. 
Trim and slice mushrooms.
Trim snow peas and cut in half. 
Cut cherry tomatoes in half.
In large nonstick skillet heat oil over medium-high heat. 
Add onion, carrot, celery and stir-fry 5 minutes. 
Add mushrooms, green garlic or garlic, mangetout and stir-fry 3 minutes longer.
Remove to a plate.
Add beef to skillet and sauté, breaking it up as it browns. 
When beef is browned, return vegetables to skillet and add stock, sherry, cumin, soy sauce. 
Cover, reduce heat to medium-low and let simmer 5 minutes.
Dissolve cornstarch in water. 
Turn the heat up under the skillet and add the cornstarch mixture, stirring constantly until thickened.
Add cherry tomatoes, heat through.  
Serve over:
Brown Rice: 
Cook rice according to package instructions.
Fluff and serve.