Main Course Menu Plan: Week 6 
Spring I
Day 1:

Shrimp in Green Sauce

Total time: 20 minutes 
    A typical 'green sauce' would be parsley, green onions and garlic.  If you can't get green garlic, use the substitutes.  This is reminiscent of the Italian Scampi, but without the butter....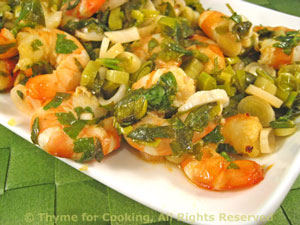 Ingredients:
12oz (360gr) shrimp (prawns), cleaned
2 tbs olive oil
1 tbs fresh lemon juice
4 tbs chopped, fresh parsley

3 green garlic, including green tops

 

substitute 3 green onions and 2 cloves garlic
 Instructions:
Trim green garlic, slicing off the root and removing 1 layer.  Thinly slice as much as you can, including the green tops. 
OR trim the green onion the same way and slice; mince the garlic. 
Chop the parsley -

I cut with a scissors.

Mix olive oil, lemon, chopped parsley and green garlic (or onion and garlic) in a medium bowl. 
Add shrimp and combine. 
Put into a small baking dish and bake, 400F (200C) 15 minutes, until shrimp are just cooked through.
Day 2:

Chicken with Mascarpone and Shallots  

Total time: 45 minutes
     I occasionally find a chicken recipe that leans more toward the decadent than the healthy and reserve it for a Saturday dinner (rather than a Monday).  This is loosely based on a recipe I saw years ago in Cooking Light magazine. I cut the chicken breasts in half, but you can leave them whole if you prefer.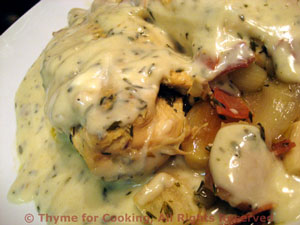 Ingredients:
2 chicken breasts, boneless, skinless
3 tbs Dijon-style mustard
2 tbs white Balsamic vinegar
2 tbs white wine
1 tsp dried thyme
2 slice Prosciutto (1.5 oz, 45gr)
4 shallots
4 cloves garlic
1 tbs olive oil
1 tsp dried parsley
2 bay leaves (laurel)
3/4 cup (6oz, 180ml) chicken broth
1/2 cup (4oz, 120gr) mascarpone
2 tsp cornstarch (maizena, corn flour) dissolved in 1 tbs water
 Instructions:
Mix mustard, vinegar, wine and thyme.
Cut chicken breasts in half, the short way, and put in a small dish or larger zip-lock bag. 
Add mustard mixture and allow to marinade for at least 10 minutes, but up to an hour. 
Peel shallots and garlic, leave whole. 
Slice the Prosciutto.
Heat oil in nonstick skillet. 
Add Prosciutto, shallots and garlic.  Sauté over medium heat until all is slightly browned, about 10 minutes. 
Remove chicken from marinade and add to skillet.  Reserve marinade. 
Sauté the chicken 5 minutes per side.  (They won't really brown, but it starts them cooking.) 
Add the reserved marinade, parsley, bay and chicken stock. 
Stir to combine, cover, reduce heat slightly and simmer for 20 minutes.
To finish:
 Remove chicken, shallots and garlic to a small platter and keep warm.
 Remove and discard bay leaves. 
Dissolve cornstarch in water.  Stir cornstarch into stock to thicken. 
When hot and bubbling again, turn off heat and add mascarpone, stirring well. 
Spoon sauce over chicken and shallots, serve.
Day 3:

 Puff Pastry Pizza with Green Garlic and Green Olives

Total time: 30 minutes 
   Use any cheese you like for this.  The puff pastry makes a light and flaky crust and the pizza is ready in no time!
 Ingredients:
 Instructions:
Lay the pastry crust out on a baking sheet.
Slice tomatoes as thinly as possible, 8 - 10 slices per tomato.
Tear Prosciutto into small pieces.
Trim and slice green garlic, using the green as well as the white.
Slice the olives.
Arrange the tomato slices on the pastry. 
Lay the Prosciutto on top. 
Sprinkle with green garlic, marjoram, olives and cheese. 
Bake in a preheated oven, 400F (200C) for 20 - 25 minutes, or until crust and top are golden brown. 
Sprinkle with Parmesan just before slicing.
Day 4:

 Chicken With Spinach, Red Pepper Salad

Total time: 25 minutes
    The flavors of orange, sherry and paprika combine to give a taste of Spain to this easy salad.  I cut the breasts in half, the short way.  They cook a bit faster and it makes a nicer presentation with the salad.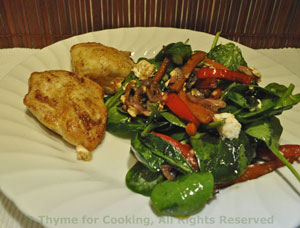 Ingredients:
For the chicken:

2 chicken breasts, boneless, skinless

2 tbs flour
1 tsp cumin
1 tsp paprika
1 tbs olive oil
1/4 cup (2oz, 60ml) white wine

1/4 cup (2oz, 60ml) orange juice

  

substitute 2 tbs lemon juice plus 1 tsp sugar

For the salad:
6oz (180gr) fresh spinach
1/2 red bell pepper
2 shallots
2oz (60gr) feta cheese
2 tbs sherry vinegar
1 tbs olive oil
 Instructions
The chicken:
Mix flour, paprika and cumin.
Cut chicken breasts in half. 
Roll in flour mixture to coat. 
Heat a large nonstick skillet.  When hot, add oil, chicken and brown well on both sides. 
Add orange juice, white wine, cover, reduce heat and simmer 10 minutes, or until done.
The salad:
Slice pepper, shallots. 
Sauté in olive oil until tender. 
Add sherry vinegar.  Keep warm.
Pick through the spinach, discarding any wilted or damaged leaves.  Wash, spin dry if necessary and put into a large bowl.
The finish:
When chicken is done remove and place on a platter or 2 plates.
Turn heat up under the chicken skillet and reduce liquid by half.
Remove from heat and add the peppers and shallots.  
Spoon over the spinach. Toss well to coat and wilt spinach slightly. 
Arrange spinach next to the chicken. 
Crumble feta on top and serve.
Day 5:

 Spicy Turkey with Peas and Peppers

Total time: 30 minutes
    Cumin and ginger add a bit of spice to this dish, the cherry tomatoes and peas a bit of color.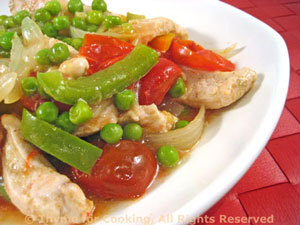 Ingredients:
 Instructions:
Thinly slice onion. 
Peel, mince garlic and ginger. 
Cut green pepper into thick strips, then cut in half. 
Cut tomatoes in half. 
Remove peas from freezer and set aside until needed.
Cut turkey into strips or bite-size pieces.
Heat olive oil in large nonstick skillet over medium-high heat.  
Add onion, pepper to skillet and stir-fry for 2 minutes. 
Add garlic, ginger, cumin and stir-fry another 2 minutes.
Reduce heat to medium, add turkey and stir-fry until cooked through.
Add chicken stock, peas, cover and simmer 5 minutes, until peas are hot. 
Add cherry tomatoes and heat through, about 1 minute. 
Stir in cornstarch / water mixture. 
Rice with Almonds and Cumin
Total time: 20 minutes   
     Cinnamon, cumin and almonds give this rice a Moroccan flavor.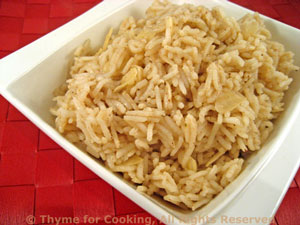 Ingredients:
1/2 cup (3.3oz, 95gr) Basmati rice
1 cup (8oz, 240ml) chicken stock
1/4 tsp cumin
1/4 tsp cinnamon
2 tbs sliced almonds
 Instructions:
Put rice, stock, cumin and cinnamon into a small saucepan. 
Cover and simmer until rice is done, about 15 minutes. 
Fluff rice, add almonds and serve.
Day 6:

 Spanish Pork with Peppers and Olives 

Total time: 30 minutes
     Spain, like most countries with a warm climate, grows and eats lots of peppers.  In Andorra I used long, green chilis.  Now I make do with bell peppers.  Use hotter peppers if you prefer.  And the olives?  They're everywhere!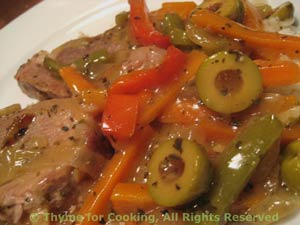 Ingredients:
1 pork tenderloin, 12oz (360gr)
1/2 green bell pepper
1/2 red bell pepper
1 onion
2 cloves garlic
1 medium - large carrot
1/2 cup olives, pimento stuffed
1 tsp dried basil
1 tsp dried marjoram
1/4 (2oz, 60ml) cup white wine
1/4 (2oz, 60ml) cup chicken stock
2 tbs white Balsamic vinegar
1 tbs olive oil
2 tsp cornstarch dissolved in 1 tbs water
 Instructions: