Braised Lamb with Red Peppers
Roasted Potatoes
Cooking time:  75 minutes for menu       Cooking schedule: see below for "menu" instructions
      Start the lamb then relax a bit. This is the opposite of Friday's dinner, all the work is early.  Save the tomato sauce for later in the week.
Braised Lamb with Red Peppers
Total time: 1 hour 15 minutes 
     The red peppers and orange carrots combine for a very vibrant dish - both in color and flavor. You could substitute pork.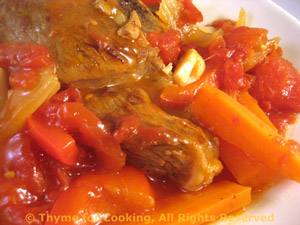 Ingredients:
12oz (360gr) boneless lamb, shoulder or leg meat
1/2 red pepper
2 medium carrots
1 medium onion
1 cup white wine
1 tsp paprika
1/4 tsp cumin
8 garlic cloves
15oz (450gr) whole tomatoes, drained, no sauce
1 tbs olive oil
 Instructions:
Slice onion.
Peel garlic, but leave whole.
Cut pepper and carrots into matchsticks.
Drain tomatoes, reserving juices for another use.  Roughly chop tomatoes.
Cut lamb into large pieces and trim excess fat.
Heat oil in a heavy pot or Dutch oven with tight-fitting lid.  Add onion, sauté until browned and starting to get crisp, remove.
Add lamb and brown on all sides.
Return the onions to the pot, add spices, pepper, carrots, garlic, wine and tomatoes.
Cover, turn heat to low and braise for 60 minutes. 
When done, spoon meat and vegetables onto a platter and serve.
Roasted Potatoes 
Total time: 35 minutes
   Lovely golden brown and crisp, these potatoes are great with any meats any time.  They are easy to make and the herbes can be varied according to the rest of the meal. In summer we do them on the barbecue grill in an old metal pie plate for the same amount of time..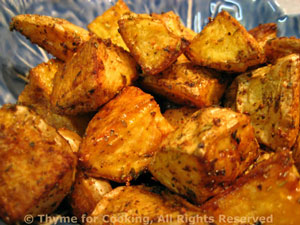 Ingredients:
2 medium potatoes
1 tbs olive oil
1 tsp herbes de Provence
salt and pepper
 Instructions:
Slice potatoes in half the long way, then in half again.  Then slice in half or thirds the short way.
Put remaining ingredients into large bowl and mix well.
Add potatoes and toss, coating thoroughly.  Arrange potatoes on baking sheet with rim (I use my trusty, round pizza pan) Bake at 400F for 30 minutes. 
You can turn once if you like to fuss but I usually don't bother.
Remove from oven and serve.  These will stay hot for awhile so a 5 or 10 minute delay is okay.
Cooking Schedule: 75 minutes for menu
Assemble all food, utensils and serving dishes
Utensils: measuring cups, spoons, knives,
heavy pot with lid, baking sheet, bowl
Slice onions, sauté
Cut lamb
Cut pepper, carrot into matchsticks
Peel garlic
Open, drain tomatoes, reserving juice, chop tomatoes
Remove onions, brown lamb
Return onions to pot, add remaining ingredients
Cover, turn heat to low, braise

Turn oven on, 400F (200C)
    30 minute break
Cut potatoes, toss with oil, herbs, put on baking sheet
Roast potatoes
Check the lamb
      15 minute break
Turn potatoes
Check the lamb
      15 minute break
Remove potatoes
Spoon meat, vegetables on to a platter, add potatoes
Serve