Winter Salad of Endive and Savoy Cabbage
Braised Veal with Garlic
Gnocchi
Parmesan Sunchokes Slices
Parmesan Sunchokes Slices
Total time: 35 minutes
    Sliced, coated with oil and baked. Simple, delicious.  They don't get crispy, like potatoes so be a bit careful when taking them off the baking sheet. A nonstick baking sheet will work best. Sunchokes discolor quickly so keep in water after peeling if not preparing immediately.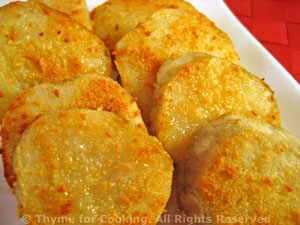 Ingredients:
3 - 4 sunchokes, aka Jerusalem artichokes
2 tbs olive oil
2 tbs Parmesan
 Instructions:
Mix olive oil and Parmesan in a bowl.
Peel sunchokes, cutting each sunchoke into 1/4 inch thick slices.  Add slices to oil / Parmesan as you work, stirring to coat.
Lay on a nonstick baking sheet with a lip. 
Put in a 400F (200C) oven and bake for 25 minutes. Serve.