Baked Eggs
Paupiettes (Provençal Veal Rolls)
Potato Gratin with Caramelized Shallots
Sautéed Butternut Squash with Shallots
Sautéed Butternut Squash with Shallots
Total time: 25 minutes
    Butternut squash and shallots, simply fried until golden and tender.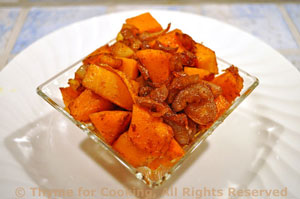 Ingredients:
12oz (360gr) butternut squash 

2 - 3 cups small chunks

3 medium shallots
1 tsp paprika
2 tsp olive oil
 Instructions:
Clean and slice butternut squash, (.5", 1.25cm) then cut into bite-size cubes.
Peel and vertically slice shallots into quarters. 
Heat oil in a large, nonstick skillet over medium heat.  Add squash, shallots, paprika and sauté 15 - 20 minutes, until squash is nicely browned.
Serve.
Note:  To clean butternut squash first peel it, using a potato/vegetable peeler.  If it's large (typically) cut it in half between the 'neck' and 'bowl' ends.  Then cut those in half the 'long' way.  Scoop the seeds out of the round end and discard.  I use the neck end for uniform pieces and the bowl end for soups and smaller pieces.