Butternut Squash Soup
Roast Turkey with Madeira
Sage, (Giblet) and Celery Stuffing
Fresh Spinach Gratin
Cranberry Cheesecake Pie
Fresh Spinach Gratin with Ricotta
Total time: 45 minutes
   This is a bit decadent for such a healthy vegetable as spinach, but it will please even those who don't normally like spinach.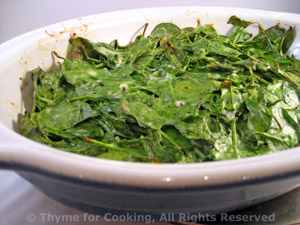 Ingredients:
16oz (480gr) fresh spinach 
1/4 cup flour
4 tbs butter
1/2 cup (4oz, 120gr) ricotta cheese
1/3 cup (3oz, 90ml) cream or milk
2 eggs
pinch of nutmeg
 Instructions:
Wash spinach, if needed, remove thick stems, and roughly chop.
In large bowl mix remaining ingredients.  It's a messy job but fingers work the best. 
When you have a sticky paste add the spinach and mix well. 
Put into a buttered gratin dish - a glass baking dish with low sides and bake at 375F (190 C) for about 30 minutes.  Serve.