Lentils with Tomatoes
Total time: 40 minutes
    I use the tiny, green lentils de Puy, but you can use the larger brown or tan lentils. Do not use the red ones, they get too mushy.  This makes enough to serve 4.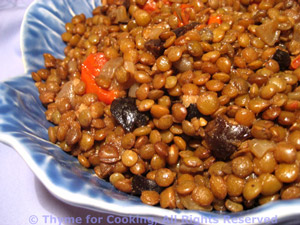 Ingredients:
2/3 cup dried lentils
1 cup (8oz, 240ml) beef stock
1 cup (8oz, 240ml) water
1/2 onion
1 clove garlic
2 tsp olive oil
5 - 6 Greek olives
1 tsp Dijon-style Mustard
1 cup chopped tomatoes
1 tsp soy sauce
2 tsp Balsamic vinegar
 Instructions:
Briefly inspect the lentils in case someone missed the odd stone.  Rinse and drain. 
Cook the lentils in water and stock about 30 minutes / according to package directions or until done. 
When done, remove from heat and drain.
Finely chop onion and mince garlic. 
Heat oil in medium skillet over medium heat. 
When hot add onion and garlic, sauté until tender, about 5 minutes. 
Pit the olives if needed. 
Roughly chop olives and add to onions along with the tomatoes, mustard, soy sauce and vinegar. 
Simmer until slightly thick, 10 - 15 minutes.   
Stir in drained lentils and serve.