Burgers with Ginger Barbecue Sauce
Grilled Potatoes with White Balsamic Glaze
Sautéed Zucchini (Courgette) with Tomatoes and Onion
Zucchini (Courgette) with Tomatoes and Onions
Total time: 35 minutes
    This is a traditional Mediterranean preparation and one of my favorites.  It's wonderful hot but good cold the next day if there are any leftovers.  You can add a drizzle of Balsamic vinegar and olive oil and have a cold salad.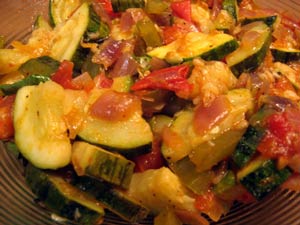 Ingredients:
 Instructions:
Sauté onions and garlic in medium nonstick skillet over medium heat. 
Cut ends off zucchini, cut in half the long way and then into 1/4 inch slices. 
When onions are transparent add zucchini. 
Cut tomatoes into chunks and add to zucchini. 
Turn heat to medium-low, cover and simmer until done, about 20 minutes. 
Chop herbs and stir in. (If using dried herbs add with tomatoes.)  
Serve.