Tuna and Radish Salad
Brined and Grilled Turkey Breast with Aioli
Grilled Potatoes with Aioli
Courgette (Zucchini) Sticks
Baked Zucchini (Courgette) Sticks
Total time: 40 minutes
    These are quickly prepared; bake, unattended and end with a nice crunch.  Easy peasy! And one can't have too many zucchini recipes in summer!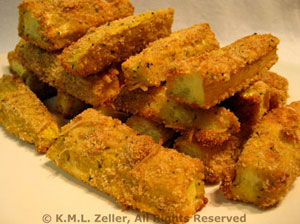 Ingredients:
  Instructions:
Wash zucchini and slice off stem and blossom ends. 
Cut it in half or thirds the short way.  You want pieces 2 - 3" long (5 - 8cm). 
Cut each section into sticks about 5/8" (1cm) square.  They won't all be perfect, coming from a round vegetable, but close is good. 
In a flattish bowl whisk the mustard and the egg together. 
In another flattish bowl or plate mix the crumbs and cheese together.
Roll the zucchini sticks in the egg, then the crumbs. 
Place on a nonstick baking sheet. 
Bake at 400F (200C) for 35 minutes, until coating starts to brown.
Remove and serve.