Grilled Chicken with Lemon and Herbs
Summer Basmati Rice Pilaf
Sautéed Chard with Tomatoes
Sautéed Chard with Tomatoes
Total time: 15 minutes
   Chard, or Swiss Chard, is a slightly bitter green, reminiscent of spinach.  Mine is 'Rainbow Chard', thus all the colors.  We added some onion, tomato and basil for a summery flavor.  We cooked the stems just a bit longer than the leaves - but don't be fussy about it.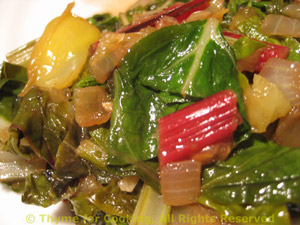 Ingredients:
8oz (240gr) chard  

Swiss chard

1 onion
1 tomato
2 cloves garlic
handful fresh basil leaves
2 tsp olive oil
 Instructions:
Wash the chard and trim any bad bits. 
Stack the leaves together and fold over, the long way.  Slice into thin strips, about 1/2" (1cm) using both leaves and stems. 
Chop onion.
Mince garlic.
Roughly chop tomato. 
Tear large basil leaves.
Heat oil in a large skillet.  Add onion and sauté until tender, about 5 minutes. 
Add the garlic, chard stems and stir-fry over medium heat 3 minutes.
Add the leaves, basil and tomato.   Stir and turn until the leaves wilt and it all fits into the skillet. 
Reduce heat to low and cook until all is tender, another 5 - 6 minutes, stirring frequently.