Stuffed Mushrooms
Roast Pork Loin with Onion Sauce
Potato and Leek Pancake
Carrots with Mustard Glaze
Carrots with Mustard Glaze
Total time: 25 minutes
    I got the idea for this in a Williams Sonoma cookbook.  Honey could be used instead of the Brown sugar. The color is a bit odd but the flavor is wonderful!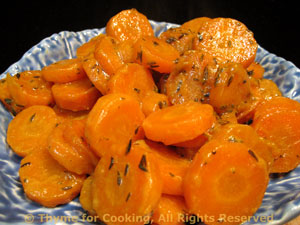 Ingredients:
2 - 3 carrots
1/2 cup water
1/2 tsp thyme
1 tbs brown sugar
1 tbs Dijon-style mustard
1 tbs chicken stock
 Instructions:
Peel carrots, and cut into rounds about 1/4" (.6cm) thick.
Put carrots and water into a small saucepan or nonstick skillet.
Bring to a simmer over medium heat.  Reduce heat and let simmer until done, 10 - 15 minutes.
Drain carrots and return empty pan to heat.
Add stock, brown sugar, thyme and mustard and stir until sugar is melted.
Add carrots and stir, over high heat until glaze is thick and hot.  Serve.