Sautéed Carrots with Leeks
Total time: 20 minutes
    If your leek is very clean, leave it whole and slice rounds for a nicer presentation. If sandy, slice in half and rinse as usual.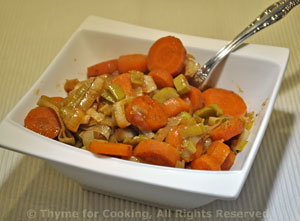 Ingredients:
2 medium carrots
1 small leek
2 tsp olive oil
2 tbs chicken stock
 Instructions:
Slice the carrots into thin rounds.
Trim leek, cut in half the long way and rinse well.  Thinly slice.
Heat oil in a small skillet.  Add the leeks and sauté until tender.
Add the carrots and stir well to combine. 
Add the stock, cover, reduce heat and cook until carrots are tender, 12 - 15 minutes.
Uncover and cook off any remaining liquid.  Serve.