Simple Lettuce and Tomato Salad
Grilled Scallops with Tomato Salsa
Grilled Polenta
Braised Carrots and Shallots
Braised Carrots and Shallots
Total time: 25 minutes
   Quick and simple, I always have carrots on hand to 'fill in' when I run low on other vegetables.... besides, I love them!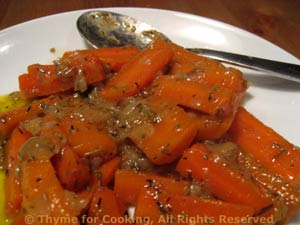 Ingredients:
2 - 3 medium carrots
1 shallot, chopped
1 tsp olive oil
1/4 cup chicken stock
1 tbs butter
1 tsp dried Herbes de Province
 Instructions:
Heat oil in a small skillet.  Add shallot and sauté until translucent, about 5 minutes. 
Peel carrots, cut in half the short way so you have 2 - 3 inch lengths.  Cut in half the long way then cut each half again so you have carrot sticks.  
Add carrots, stock to skillet and cook over low heat until done, 10 - 15 minutes. 
 Drain carrots and shallots. 
Add butter, herbs and toss to coat.  Let fry a minute or two and serve.