Meat Loaf with Mushroom Sauce
Baked Sweet Potatoes
Cannellini with Tomatoes and Sage
Cannellini with Sage, Garlic and Tomatoes 
Total time: 20 minutes
    I love beans and this is one of my favorite ways to have them. It's quick, easy, and, except for the tomato, uses pantry staples. The vinegar add just the right tang to the sweetness of the beans.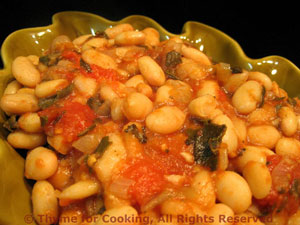 Ingredients:
 Instructions:
Finely chop onion and garlic. 
Chop tomato. 
Heat oil in nonstick skillet. 
Add onions and sauté 5 minutes. 
Add garlic, sage and sauté 2 minutes longer. 
Add tomato, cover and simmer 5 minutes. 
Drain and rinse beans.  Add beans, cover and simmer 10 minutes. 
Add vinegar, stir to combine and serve.