Stir-Fried Cabbage with Peanut Sauce 
Total time: 25 minutes
    I love the flavor a little peanut butter adds to a stir-fry.  If you don't normally have it on hand you can leave it out - but add another tsp soy sauce.  This is a cross between a stir-fry and a salad.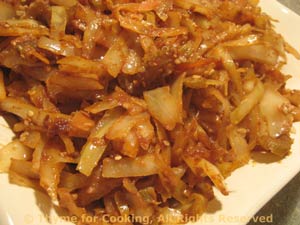 Ingredients:
1 1/2 cups shredded cabbage
1 carrot
1 rib celery
1 tsp soy sauce
1 tsp walnut or sesame oil
2 tsp olive oil
1/3 cup (3oz, 90ml) chicken stock
1 1/2 tbs peanut butter
1 tbs sherry vinegar or red wine vinegar
1/2 tsp chili powder
1 tbs (toasted) sesame seeds
 Instructions:
Shred cabbage: cut a slice off of the head, lay the slice cut side down, cut into 4ths, then, cutting across, slice very finely: 1/16" - 1/8" (.3cm).  Do not use the core of the cabbage - you'll recognize it when you see it.
Slice the carrot into paper thin strips using the vegetable peeler. 
Thinly slice celery. 
Heat oil in a large nonstick skillet. 
Add chili powder and sauté briefly. 
Add cabbage, carrot and celery.   Stir-fry 5 - 8 minutes, until cabbage start to wilt. 
Add soy sauce and chicken stock. 
Stir well to combine, cover, reduce heat and let cook for 5 more minutes. 
Combine peanut butter and vinegar. 
Uncover cabbage and increase heat.  Stir in peanut butter/vinegar mixture.  Continue cooking and stirring until most of the liquid has evaporated and peanut butter melted into the cabbage. 
Sprinkle with sesame seeds and serve.