Braised Savoy Cabbage with Prosciutto
Total time: 15 minutes
    This is an Italian-influenced dish - both the 'green' cabbage and Prosciutto (for flavor), being common.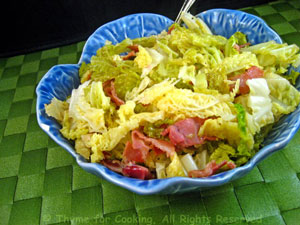 Ingredients:
2 cups shredded cabbage, loosely packed
2 slices Prosciutto
1 tbs olive oil
1/2 cup (4oz, 120gr) white wine
 Instructions:
Remove dark green outer leaves from cabbage. Cut off a thick slice, avoiding the core. Lay flat, cut into 3 or 4 wedges, then thinly slice the wedges.
 Roughly chop the Prosciutto.
Heat olive oil in a large skillet.  Add Prosciutto and sauté briefly.
Add cabbage and sauté until starting to wilt.
Add wine, cover and braise over low heat for 20 minutes, stirring occasionally.
Serve.