Chicken Breasts Duxelles
Scalloped Potatoes, leftover
Brussels Sprouts with Celeriac
Sautéed Sliced Brussels Sprouts with Celeriac
Total time: 25 minutes
    A true winter sauté, with Brussels Sprouts and Celeriac.  Brussels sprouts are not bitter if not overcooked.  Allow them to stay just on the crispy side - cooked but not overcooked!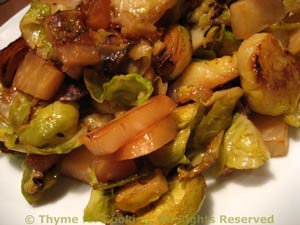 Ingredients:
12 - 15 Brussels sprouts
1 medium shallot
1/4 - 1/3 head celeriac
1 tbs olive oil
2 tsp Worcestershire sauce
1/2 tsp dried thyme
 Instructions:
Peel and chop shallot.  
Slice off stem end of sprouts and remove any wilted or damaged leaves. 
Cut each sprout into 3 or 4 slices, through the stem end. 
Trim any discolored bits of the celeriac if previously cut. Peel and cut into pieces roughly the same size as the sliced sprouts.
Heat oil in medium nonstick skillet over medium heat.  Add shallots, celeriac and sauté 5 minutes. 
Add sprouts and sauté until just starting to get tender, 8 - 10 minutes longer, stirring often. 
Add Worcestershire sauce, thyme, stir well to combine.
Reduce heat, cover and cook 5 minutes longer.  Serve.