Brussels Sprouts with Bacon
Total time: 25 minutes
   A slice or two of bacon or cured ham can add a lot of savory flavor to a simple vegetable dish.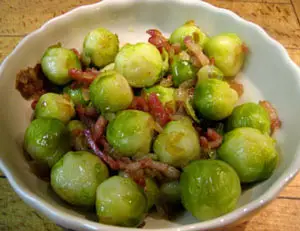 Ingredients:
 Instructions:
Trim Brussels sprouts:

slice a bit off of the stem end and peel away the outer leaves - any that are damaged, wilted or discolored. 

Put them in a small saucepan, add about 1/2" (1.25cm) water, cover and cook over medium heat until just barely tender, about 10 - 15 minutes, depending on size.  Check by piercing with a knife - it should go in fairly easily but with a little resistance.   Try not to overcook or they tend to get bitter.
When done, remove from heat and drain.
Put sprouts into the serving bowl and cover with the pan lid. 

To finish:

 

Mince garlic; roughly chop bacon.

Put the pan back on to medium heat and add olive oil.
Add garlic, bacon and sauté over medium heat about 2 minutes.
Add thyme and Brussels sprouts.  Sauté for 5 minutes, shaking/stirring occasionally.  Serve.