Broccoli Gratin
Total time: 35 minutes
    A simple preparation but the combination of mustard and cheese adds a creamy-sharp flavor to the broccoli. This can be made ahead and quickly reheated in the oven.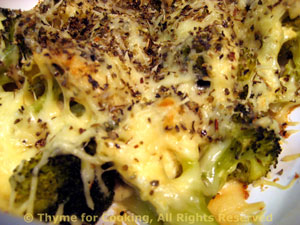 Ingredients:
1/2 medium head broccoli
1/4 cup (1oz, 30gr) shredded cheese
1/4 cup dry bread crumbs
1 tbs olive oil
2 tsp Dijon-style mustard
 Instructions:
Cut broccoli into bite size florets and stems.
Put in a steamer basket in a saucepan with an inch of water in the bottom.
Put on medium heat and steam for 10 minutes or until done. 
Remove from pan and set aside. 
Mix cheese with bread crumbs.
In medium bowl mix oil and mustard.
Add broccoli and toss well to coat. 
Put broccoli in a small baking dish. 
Sprinkle with cheese mixture and bake, uncovered, at 400F (200C) until hot and golden, about 10 minutes.  Serve.