Avocado and White Bean Salad
Baked Salmon with Horseradish
Potatoes with Prosciutto, Olives and Green Garlic
Beets with Butter and Parsley
Beets (Beetroot) with Butter and Parsley
Total time: 10 minutes
    A simple preparation: sauté the beats in a bit of butter and finish with parsley, salt and pepper. Be mindful of the beet juices as they stain everything they touch.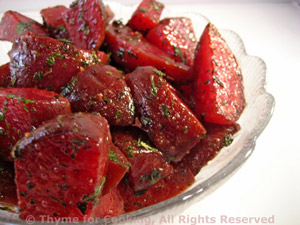 Ingredients:
10oz (300gr) cooked beets (beetroot)
2 tbs butter
1 tbs dried parsley
salt, pepper
 Instructions:
Cut the beets into large, bite-size pieces. 
Melt the butter in a small skillet over medium-low heat. 
Add the beets and sauté gently until heated through, about 10 minutes. 
Stir in parsley, and sauté a minute longer.
Salt and pepper to taste and serve.