Carrot and Celery Soup
Pan-Fried Salmon with Capers
Basmati with Green Garlic
Buttered Asparagus
Sautéed Asparagus in Butter and Pepper
Total time: 15 minutes
 Asparagus is one of the long awaited signs of spring.  Most often steamed, occasionally roasted or grilled, I have discovered simple frying to be quick, and leave the asparagus a beautiful green color and full of flavor.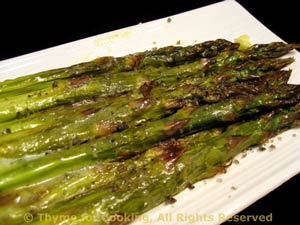 Ingredients:
8oz (240gr) asparagus
1 tbs butter
1 tbs olive oil
pepper
sea salt
 Instructions:
Snap off ends of asparagus.  If white use vegetable peeler and peel the bottom half of stalk. 
Put asparagus into a skillet big enough to hold them without cutting, add butter, oil and sauté over medium heat until starting to brown and blister, 8 - 10 minutes. 
Sprinkle with lots of pepper, salt, remove and serve.