Tomato Mozzarella Salad 
Total time: 5 minutes
  A small Caprese Salad to use up Mozzarella and Cherry Tomatoes - and because it's summer...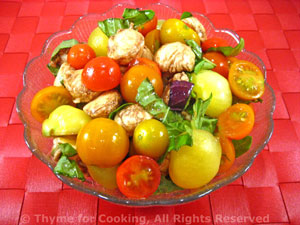 Ingredients:
10 cherry tomatoes
1/2 package small mozzarella balls
handful basil leaves
3 tsp Balsamic vinegar
3 tsp good olive oil
 Instructions:
Cut cherry tomatoes and mozzarella balls in half. 
Tear basil leaves into smaller pieces - or leave whole. 
Put tomatoes, mozzarella, basil into a bowl, add oil and vinegar, stir to combine and serve.