Taco Salad,
a la Française
Total time: 25 minutes
         Couscous, chevre (goat cheese) and a vinaigrette add a different twist to this Taco Salad.  Substitute ground turkey and chicken stock if you like.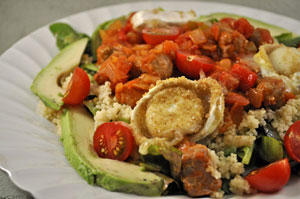 Ingredients:
8oz (240gr) ground beef
1/3 cup (2oz, 60gr) couscous
2/3 cup (5oz, 150ml) beef stock
1 onion
1/2 red or green bell pepper
1 rib celery
2 cloves garlic
1 tbs olive oil
1 tsp chili powder
3oz (90gr) cherry tomatoes    
1 avocado
8oz (240gr) taco sauce
3oz (90gr) goat cheese
2 tbs bread crumbs
2 tbs olive oil
Lettuce - enough for 2 main meal salads
French Vinaigrette:
1 1/2 tbs ketchup
2 tsp red wine or sherry vinegar
2 tsp Dijon-style mustard
1/4 tsp chili powder
2 tbs salad olive oil
 Instructions:
Put couscous in a bowl
Heat stock to boiling. Pour over couscous, cover and set aside.
Chop onion, pepper and celery. 
Mince garlic.
Heat 1 tbs oil in a large skillet over medium-high heat. Add chili powder and sauté briefly (30 seconds). 
Add onion, pepper, celery and sauté for 5 minutes. 
Add garlic, beef and continue cooking until meat is done. 
Stir in taco sauce and remove from heat. 

Make vinaigrette:

 
Mix ketchup, vinegar chili powder and mustard.
Slowly add olive oil, whisking constantly.
Tear the lettuce and into a large bowl
Add vinaigrette and toss to coat.
Divide and arrange on plates. 
Slice tomatoes and avocado. 
Slice goat cheese into 6 slices.
Dip cheese rounds in oil, then in crumbs
Place on baking sheet and bake, 400F (200C) for 2 minutes. 
Divide couscous and sprinkle on lettuce, divide beef mixture and put on couscous. 
Top with hot goat cheese rounds. 
Artfully arrange tomatoes and avocado slices around salad and serve.