Spinach Salad with Pork, Potatoes and Mozzarella
Total time: 30 minutes
   Pork tenderloin, sliced thickly and sautéed, makes a very tender addition to this spinach salad.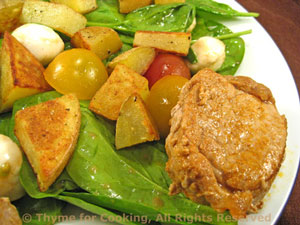 Ingredients:
12oz (360gr) pork tenderloin
1/2 tsp cumin
1/2 tsp paprika
1/4 tsp garlic powder
2 medium potatoes, (10oz, 300gr)
4 tsp olive oil, divided
10 little balls mozzarella

about 2.5oz (75gr)

10 cherry tomatoes
6oz (180gr) fresh spinach, for salads

Sherry Vinaigrette

:
1 tsp Dijon-style mustard
1 1/2 tbs sherry vinegar
3 tbs good olive oil
 Instructions:
Potatoes:

Cut potatoes into bite-size cubes. 
Heat 2 tsp oil in a medium skillet.  Add potatoes and sauté, medium heat, until well browned on all sides, tossing and stirring as needed for 20 - 25 minutes

Pork:

 
Slice pork into 1/2" (1.25cm) thick slices.
Sprinkle both sides with cumin, paprika and garlic.
Heat remaining 2 tsp olive oil in a large, nonstick skillet. Add pork and sauté, medium-high heat, until cooked through, about 2 - 4 minutes per side.
Remove and cover to keep warm.

Vinaigrette: 

Put mustard and vinegar in a small bowl and whisk to combine. 
Slowly drizzle in olive oil, whisking constantly.  You may have to stop adding oil and just whisk - you don't want to see the oil separately, it should be incorporated as it goes in.

Salad:

Prepare spinach, wash and spin dry. 
Cut cherry tomatoes in half. 
Put spinach into a large bowl, tearing any large leaves. 
Add 2 tbs vinaigrette and toss well to coat. 

To finish:

 
Divide spinach and arrange on 2 plates. 
Top with potatoes, tomatoes and cheese.
Arrange pork around the edge of the salad and serve, remaining vinaigrette on the side.