Warm Mediterranean Chicken Salad on Spinach
Total time: 25 minutes
     Chicken, quickly sautéed with herbs and spices, combined with capers, olives, peppers - all flavors from around the Mediterranean.  The salad is layered on orzo and spinach.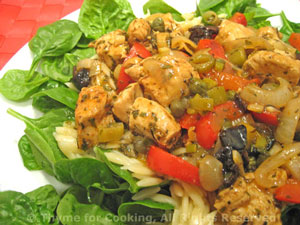 Ingredients:
 Instructions:
Cook orzo in chicken stock, covered, until done.  Drain if needed.
Slice pepper into strips, then cut strips in half. 
Quarter onion, then slice.
Mince garlic.
 Pit olives if needed, cut in half. 
Cut chicken into bite-size pieces. 
Heat oil in a large skillet over medium-high heat.  Add cumin, herbs and sauté briefly. 
Add onion, peppers, garlic, chicken and sauté until vegetables are tender and chicken is browned on all sides. 
Add sherry, vinegar, stock and bring to a simmer. 
Dissolve cornstarch in water and add, stirring until thickened. 
Remove from heat and add olives and capers.

Salad:

Prepare spinach or greens, spin dry.  Arrange on two plates. 
Divide orzo and spoon on top of greens. 
Divide chicken and spoon on top of orzo.  Serve.