Chicken and Asparagus Salad with Pasta  
Total time: 30 minutes
     Another dish that straddles to genres - not quite a pasta; not quite a salad.  But it's perfect for spring, featuring: asparagus, spinach, green garlic and cherry tomatoes.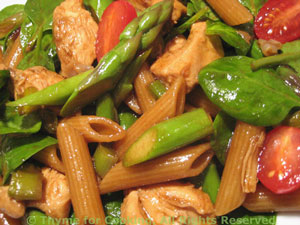 Ingredients:
 Instructions:
Cook pasta according to package directions.  Drain.

To prepare:

 
Cut chicken into bit-size pieces.
In a medium bowl mix 2 tsp oil, soy sauce, cumin and paprika.  Add chicken and stir well to combine. Set aside to marinate.
Prepare spinach, wash and dry if needed.
Trim asparagus and cut into 1 1/2" (4cm) lengths.
Cut cherry tomatoes in half.
Trim green garlic and slice, using most of the green tops. 

To cook: 

Heat remaining 2 tsp oil in a large nonstick skillet over medium-high heat.
Add asparagus, green garlic and sauté until asparagus is crisp-tender, 5 - 7 minutes. 
Remove to a plate. 
Add chicken and all marinade to skillet and sauté, stirring, until cooked through. 
Reduce heat, return asparagus, green garlic to skillet and heat through. 
Add spinach, cherry tomatoes, pasta and vinegar to skillet. 
Remove from heat and toss to combine.  Serve.