Niçoise Pasta Salad
Total time: 25 minutes
   Traditionally (besides being served on lettuce) this should have the small, black Niçoise olives but I use the dry-cured Greek - because I didn't want to bother pitting the small ones.  Get the best canned tuna you can find.  Salade Niçoise always uses canned, never fresh.  The pasta takes the place of the potatoes.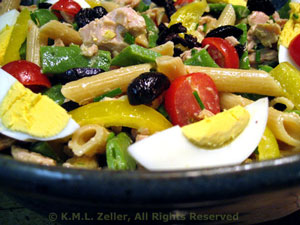 Ingredients:
6oz (180gr) green beans
1/2 cup (3oz, 90gr) cherry tomatoes
1/2 yellow or orange bell pepper
9oz (270gr) canned tuna
2 eggs, hard cooked
1/2 cup black or green olives, (or both) pitted and halved 
2 tbs fresh snipped chives    

Substitute 2 tsp dried

1 1/4 cups (4.2oz, 125gr) pasta - bite-size, penne, fusilli
4 anchovy fillets 

optional

Vinaigrette:
1/4 cup salad olive oil
2 tbs tarragon white wine vinegar
1 tbs Dijon-style mustard
1 tbs lemon juice
1 tbs fresh tarragon   

Substitute 2 tsp dried

2 tbs snipped chives 

Substitute 2 tsp dried
 Instructions:
Boil eggs. 
Cook pasta according to package directions. 
Top and tail beans and cut in half. 
Fill a medium saucepan 2/3 full of water and bring to a boil over high heat. 
Add beans and blanch for 3 minutes. 
Drain and rinse with cold water. 
To make vinaigrette:
Whisk vinegar, mustard and lemon juice. 
Slowly add oil, whisking until it emulsifies.  
Add tarragon, chives, stir and put into a large salad bowl. 
The Salad:
Add beans to vinaigrette. 
Cut tomatoes in half and add to vinaigrette. 
Clean pepper by cutting in half and discarding seeds.  Slice half of the pepper and add to vinaigrette. 
Snip chives and add. 
Cut olives in half and add (you get the picture.. - stir gently after each addition.). 
Drain tuna, and add. 
When pasta is cooked, drain and add to mix in salad bowl. 
Toss lightly to combine. 
Quarter eggs and arrange on top. 
Garnish with anchovies, if desired, and serve.