Cobb Pasta Salad
Total time: 25 minutes
   This is not a traditional pasta salad. With lots of vegetables and big chunks of ham, cheese and egg, no one will mistake this for a small side dish.  I didn't thoroughly cool the beans.  As I wanted them to retain a bit of warmth I just rinsed lightly.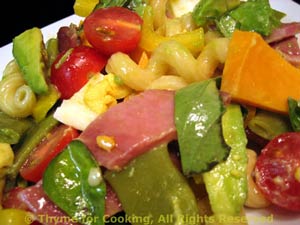 Ingredients:
8oz (240gr) ham or smoked turkey, thick slice 

get it at the deli counter

6oz (180gr) green beans  

I used flat, Italian or runner beans

2oz (60gr) cheese  

Cheddar, Colby

2 eggs, hard-boiled
1 avocado
1/2 orange bell pepper
1/2 cup (3oz, 90gr) cherry tomatoes
10 - 12 basil leaves
1 1/4 cups (4.2oz, 125gr) pasta, bite-size, fusilli, elbow
White Balsamic Vinaigrette:
1 tbs Dijon-style mustard
2 tbs white Balsamic vinegar
3 tbs salad olive oil
 Instructions:
Cook pasta according to package directions.  When done, drain.
Boil eggs.
Top and tail beans... cut off the ends.  Cut into 1 1/2 inch lengths (4cm).
Bring a medium saucepan half full of water to a boil over high heat.  
Add beans and blanch for 4 minutes. 
Remove, drain, rinse with cold water and set aside. 
Slice pepper, about 1/4" thick (.5cm) then cut slices in half. 
Slice ham or turkey and cheese into large, bite-size chunks. 
Cut cherry tomatoes in half. 
Cut avocado into large chunks.
When eggs are done, cool, peel and cut into chunks. 
Tear large basil leaves in half. 
Make vinaigrette:
Whisk vinegar,and mustard. 
Slowly whisk in oil and whisk until it emulsifies.

To assemble: 

Put drained pasta in a large bowl and add vinaigrette.  Toss well to combine. 
Add ham, peppers, tomato and beans, toss well. 
Add cheese, egg, basil and avocado.  Stir gently, just to combine. 
Serve.