Pasta with Grilled Chicken and Tapenade
Total time: 25 minutes
    By cooking the pasta and green beans together we save on cleanup and add a bit of flavor to the pasta. This is not really a salad but is served at room temperature to bring out the best of the flavors.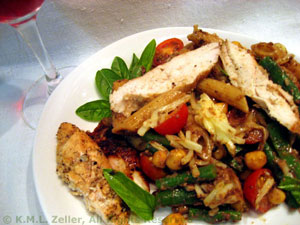 Ingredients:
 Instructions:
Cook pasta according to package directions.
Note cooking time and add beans to water during last 4 minutes.

For chicken:

Mix vinegar, Worcestershire, oil and oregano. 
Pour over chicken and allow to marinate for 10 - 15 minutes. 
Cook on barbecue grill or in a nonstick skillet, 12 - 15 minutes, turning once.

For the rest:

Top and tail beans.  Cut into 1 inch (2.5cm) pieces. 
Add to boiling pasta water during last 4 minutes of pasta cooking time.
Cut cherry tomatoes in half.  
Tear basil leaves if large.
Put tomatoes, chickpeas, tapenade and olive oil in large bowl, mix gently.

To finish:

When pasta / beans are done, drain and rinse with cool water.
Add to bowl and toss gently with tongs to combine.
When chicken is done, remove, slice and add to pasta. 
Sprinkle with basil leaves, cheese and serve.