Sausages with Pepper and Onions
Summer Basmati Rice Pilaf
Cold Ratatouille Salad
Chicken, Green Bean, Tomato Pasta with Peanut Dressing
Total time: 30 minutes
    This is a stir-fried salad..... Serve warm, not hot, for best flavors.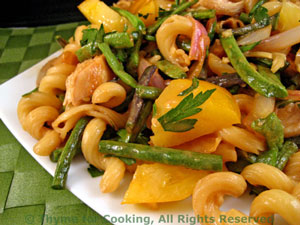 Ingredients:
1 1/4 cups (4.2oz, 120gr) pasta
2 chicken breasts, boneless, skinless
3 medium shallots
2 cloves garlic
6oz (180gr) green beans
2 yellow or red tomatoes 
2 tbs fresh parsley
1 tbs Teriyaki sauce
1 tbs olive oil
Peanut Dressing:
2 tbs creamy peanut butter
2 tbs sherry vinegar
2 tbs Teriyaki sauce
2 tbs good olive oil
 Instructions:
Cook pasta according to package instructions. Drain.

Stir-Fry:

Top and tail beans, cut into 1 1/2" (4cm) lengths. 
Clean and slice shallots.
Mince garlic.
Cut chicken into bite-size pieces.
Heat oil in a large skillet over medium-high heat. 
Add shallots, beans and stir-fry 3 minutes.
Add garlic, stir-fry another minute. 
Remove vegetables to a pasta bowl, add Teriyaki sauce and stir to combine. 
Return skillet to heat, add chicken and stir-fry until chicken is cooked through, about 4 minutes.
Add to vegetables.
Peanut Dressing: 
Put all ingredients into a medium bowl and whisk well to combine.
To finish: 
Snip parsley; cut tomatoes into large chunks and add both to bowl along with pasta.
Add Peanut Dressing and stir to combine.