Pasta with Zucchini (Courgette) and Grilled Chicken
Total time: 30 minutes
   This is a warm pasta salad, full of garden vegetables and topped with grilled chicken.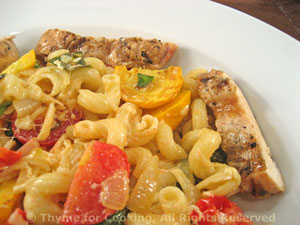 Ingredients:
1 1/4 cups (4.2oz, 120gr) pasta
2 chicken breasts
1 onion
2 cloves garlic
1 yellow squash (courgette)
3oz (90gr) cherry tomatoes
1/2 red pepper
2 tbs fresh basil
1/2 cup (2oz, 60gr)  shredded Mozzarella  or other cheese
1 tbs olive oil
Marinade:
1 tbs white Balsamic vinegar
1 tbs Dijon-style mustard
1/2 tsp garlic powder
2 tbs olive oil
Vinaigrette:
1 tbs white Balsamic vinegar
1 tbs Dijon-style mustard
3 tbs good olive oil
 Instructions:
Cook pasta according to package instructions.  Drain.

Chicken:

 
Make marinade and spoon over chicken.  Let marinate for 10 minutes.
Cook on barbecue grill for 8 - 10 minutes per side, turning once, or until done. 
Remove and let rest 5 minutes. 
Slice.

Vegetables:

Cut onion in quarters, then slice. 
Mince garlic. Roughly chop pepper.
Cut squash in half lengthwise, then slice. 
Cut cherry tomatoes in half.
Heat oil in a large skillet.  Add onion, pepper and sauté until tender. 
Add garlic, squash and sauté until squash starts to brown. 
Add tomatoes and pasta, heat through.

Vinaigrette:

Whisk vinegar,and mustard. 
Slowly whisk in oil and whisk until it emulsifies.

To finish: 

Put pasta into a large serving bowl, add basil, vinaigrette and stir gently. 
Add Mozzarella, stir gently. 
Top with sliced chicken and serve.